A New Class: Finishing The Harbor Tug "Donlon Arques"
Twenty years ago, we began building the Arques School designed harbor launch: a small tugboat named after the School's Founder, Donlon Arques.  He loved Hicks engines and working watercraft.
Over the years we framed and partially planked the tugboat using white oak, local fir and pepperwood, and also some red cedar from Oregon.  The project had been put on the back burner because of the Freda restoration project and other School activities. We recently decided to finish building the "Donlon Arques."  The photo below shows the current state of the tugboat.  Please go to the School's project page on this site to see more photos of the vessel.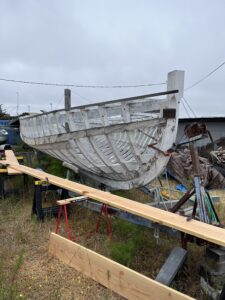 We plan to start work on the tugboat in July of this year. The tugboat project will merge with the basic woodworking class offered on this website as the Saturday Class. Applicants interested in learning traditional boatbuilding and workboat construction may apply in advance by writing to the School at arqueschl@sbcglobal.net  
Tuition is $550 (U.S.) per student for six months. One half is to be paid when registering, with the balance payable on the first day of class. Students with timely and steady attendance may ask to repeat the class.
 (Students absent for more than five classes in six months, and/or late to class more than eight times in six months may not reapply for another term)
  We are also seeking skilled, experienced volunteers to help us with various tasks needed on this project.