Evening class: Dovetails and Casework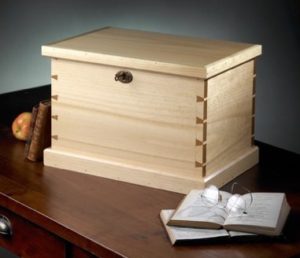 The 1839 School Box as pictured in Woodworking Magazine's Autumn 2009 issue. We'll build this box as well as a dovetailed tool tray in this class.
A short course for novice to intermediate woodworkers focused on building a small dovetailed tool tray and the 1839 School Box from The Joiner and Cabinet Maker published by Lost Art Press. In twelve meetings we will develop skills in the following areas:
Basic shop safety
Safe and effective operation of stationary power tools including thickness planer, table saw, and jointer
Use and care of hand tools including planes, chisels, marking gauges, and saws
How to flatten, smooth, and square stock for furniture making
Best practices for dovetail layout, cutting, fitting, assembly, and glue-up
Cutting and assembly of mitred joints
Methods for cutting dadoes
Two methods for installing bottoms on cases
Hardware installation
Preparing for and applying finishes
This class will meet on Tuesday evenings from 6-9pm for twelve consecutive weeks except holidays. Students should bring their own basic set of chisels, planes, and a saw. Feel free to browse the recommended tool list, which covers many of the hand tools in the boatbuilder's/woodworkers kit.
Tuition: $350 + materials
Start date is to be determined based on enrollment, likely sometime in October.
Please reach out to arqueslegacy@gmail.com to express interest in taking this course and to schedule an initial introduction and audit.