All-Day Saturday Class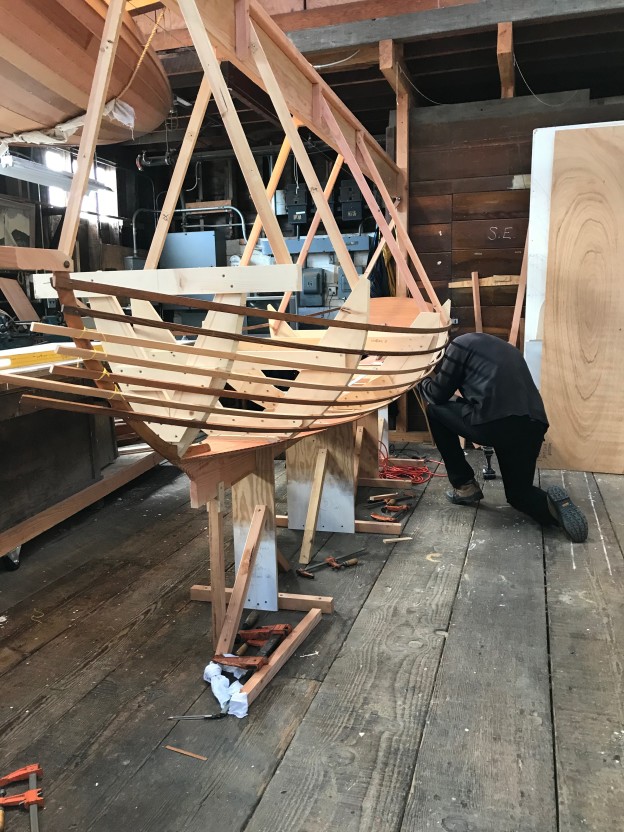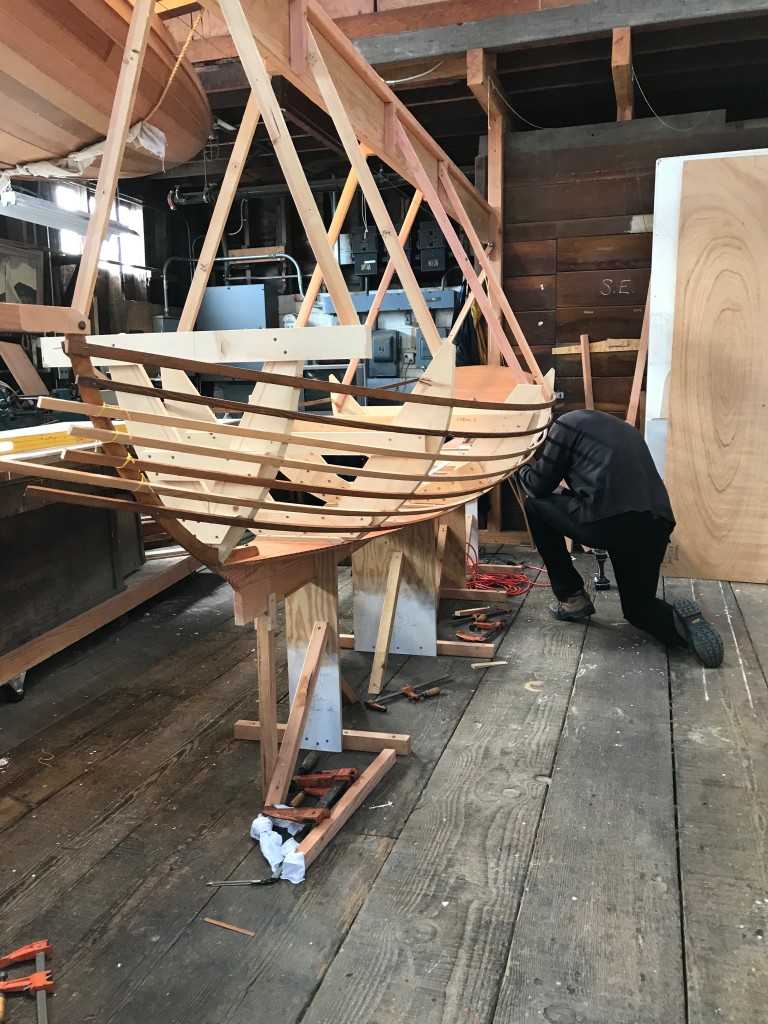 This is an ongoing class that teaches the fundamentals of proper hand tool usage, traditional woodworking and wooden boatbuilding. Our current project is the building of a curved Chamberlain Skiff (as seen in photos at different stages of construction on this page).
Prospective students should first email the School to schedule a visit to introduce themselves.
After the school visit, applicants may request to attend a free Saturday audit of the class from 9am to 4pm.  The applicant may then apply to join the class.  If the class is full, the applicant may ask be put on the waiting list.  Please send all inquiries to arqueschl@sbcglobal.net 
Level:
This class is for beginners as well as advanced students of woodworking.  The focus is on learning to use hand-tools properly, lofting (the full size drawing of a boat's lines), and the construction methods used in traditional wooden boatbuilding.
Student Starting Dates:
This is an ongoing class with no particular starting date. We meet every saturday from 9am to 4pm. New students are accepted into the class to join ongoing projects whenever there is space.
Number of students
This class is limited to 6 students.
Tuition:
$550 (U.S.) per student for six months. One half to be paid when registering, with balance payable on the first day of class. bi-monthly payments can also be arranged. Students with good attendance may repeat the class.
Tool needs:
Students will need basic hand tools such as planes, chisels, saws, hammer etc.
Our current project is the building of a round Chamberlain Skiff, already lofted as seen in the photographs below.  Our next step is to finish the patterns for the boat's stem and sternpost,  and to assemble the bottom plank. These and the molds are then to be assembled on a strongback.  (All of this now completed, see the photo at right and below)
AUGUST THROUGH DECEMBER OF 2019:  
The class has prepared the boat for the fir planking previously cut by the school in Sonoma county.  The photo at right shows the lining off of the boats future planking.
JANUARY THROUGH THE FALL OF 2020: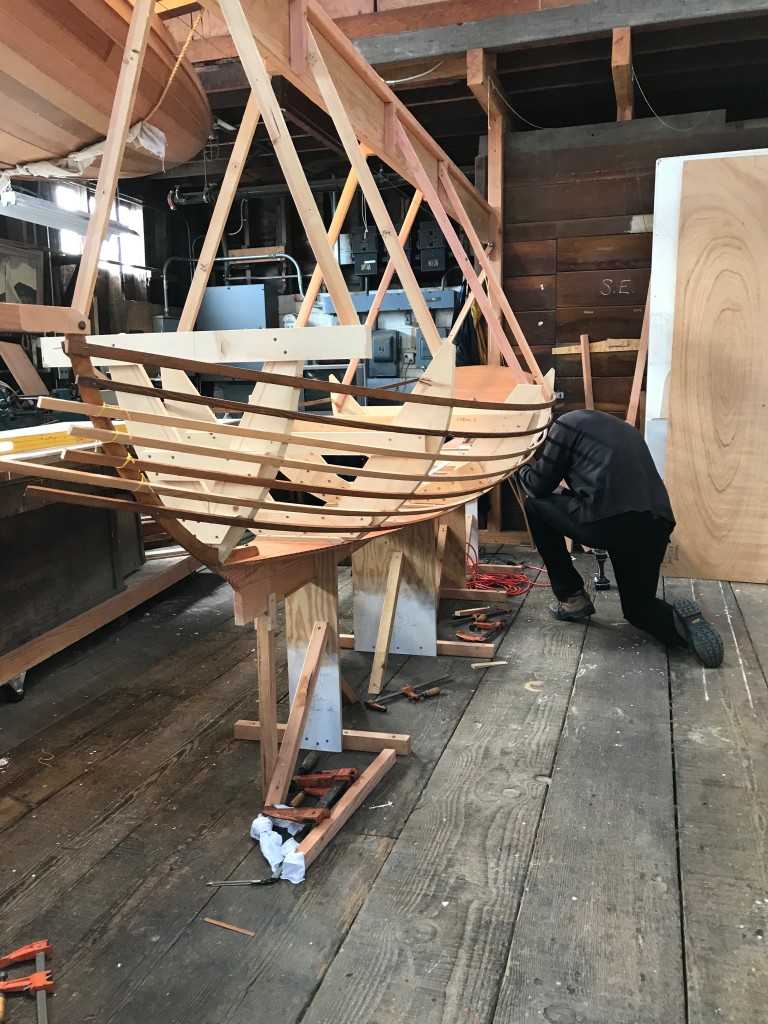 The class will plank to the shape of the lining off battens (above), then frame and finish out the boat.
 
Above: Current lofting of the round Chamberlain skiff at the Arques School.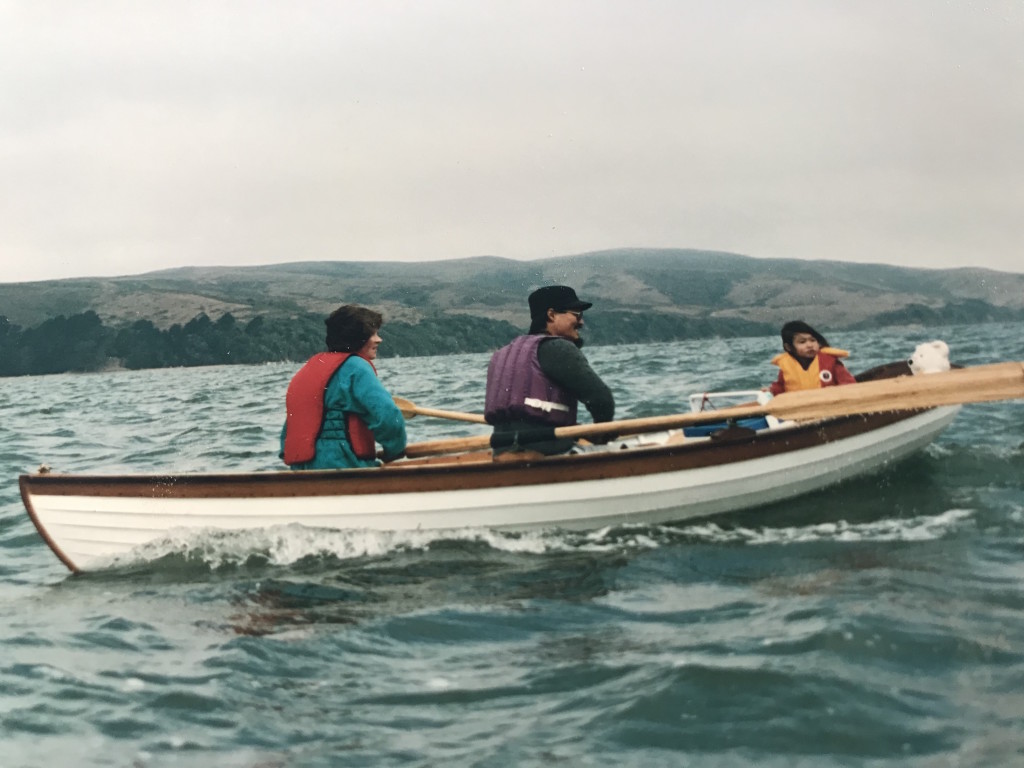 Above: Graduate student and friend Neil Kaku and his family on Tomales Bay in their round Chamberlain skiff that Neil built in the mid 1990s.