The Arques school, in Sausalito, California, is a small school dedicated to teaching the art of traditional wooden boatbuilding. Traditional wooden boatbuilding is a beautiful and complex woodcraft that is based upon centuries of traditional boat design, the related art of lofting boat lines to full size, and an in-depth understanding of various construction methods. Our program is for serious amateurs and experienced boatbuilders who love traditional wooden boats and wish to help preserve the history, design, and construction methods of this craft. Traditional wooden boatbuilding depends on the use of hand-tools. After learning about tool sharpening and care, students cultivate the long-term mastery of their tool skills.
THE ARQUES SCHOOL DOES NOT DISCRIMINATE ON THE BASIS OF RACE, GENDER, RELIGION, OR SEXUAL ORIENTATION.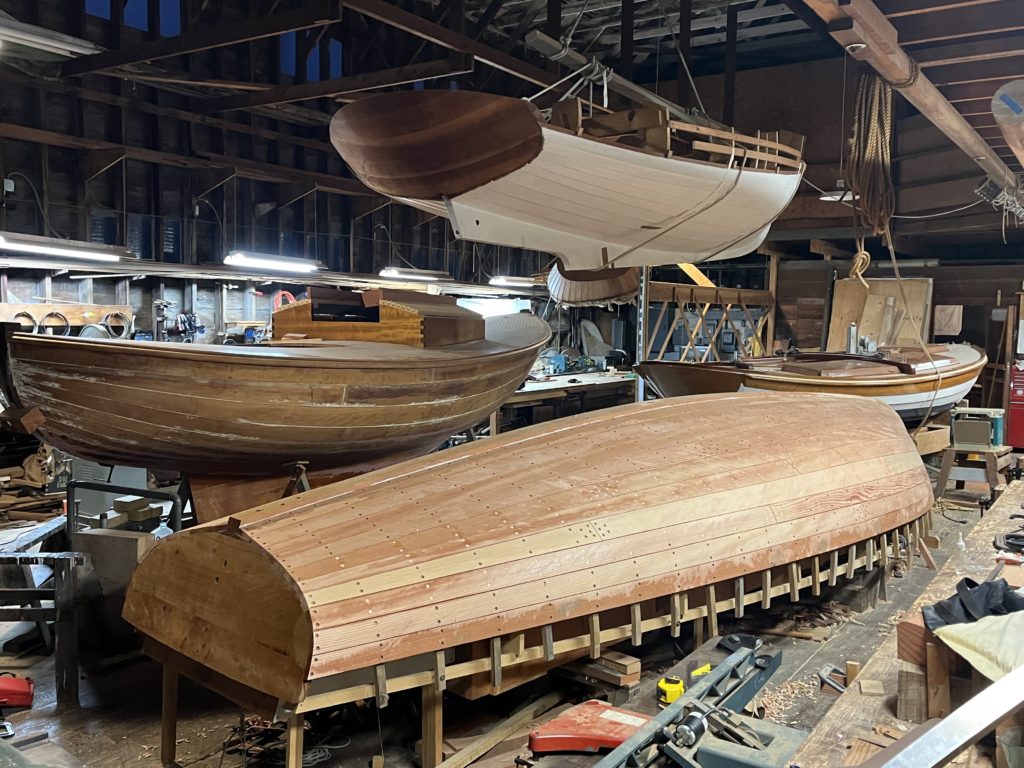 Foreground: The Arques School's Historical Replica of Sid Foster's Sloop, Dolphin.
The Arques School has since its inception made use of locally harvested lumber whenever possible, abandoned the use of toxic fungicides, and limited the use of harmful glues. Power tool noise hazards are reduced through an emphasis on hand tools, which also reduces the production of wood dust. The Arques School's classes have been developed over the last twenty-five years to provide adult students with an authentic understanding of traditional boatbuilding. The following are some of the key points of this approach:
* To develop our attention capacity through quiet focus on the work at hand; to cultivate the patience and persistence necessary to truly learn the fundamentals of theory and practice of this complex craft.
* To progressively develop our handtool skills by learning them systematically through a series of wood-joint cutting and fitting exercises that allow us to master the basic skills required for careful traditional boatbuilding.
* To broaden our understanding of the scope and complexity of traditional boatbuilding. Appreciating the beauty and scope of this craft increases our commitment to learning the craft as it was historically taught, carefully and by degrees.