Black Cat – The Richardson Bay Catboat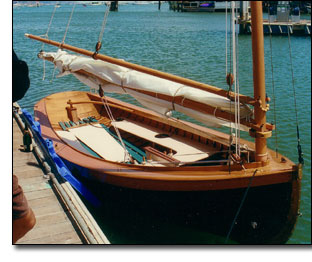 Black Cat was designed by Robert Darr in the Arques School's Design Program for use in sheltered waters. It is a fifteen foot long open catboat built with lapstrake planking, copper fastened. The boat was designed to be fast, maneuverable, and beautiful.
This is the first Black Cat. The raked, curved transom is made of local pepperwood, white oak frames and planking of local fir, cut in the hills above Cazadero. The sheer is bold and, like most catboats, high at the bow.