Advanced Class in Traditional Wooden Boatbuilding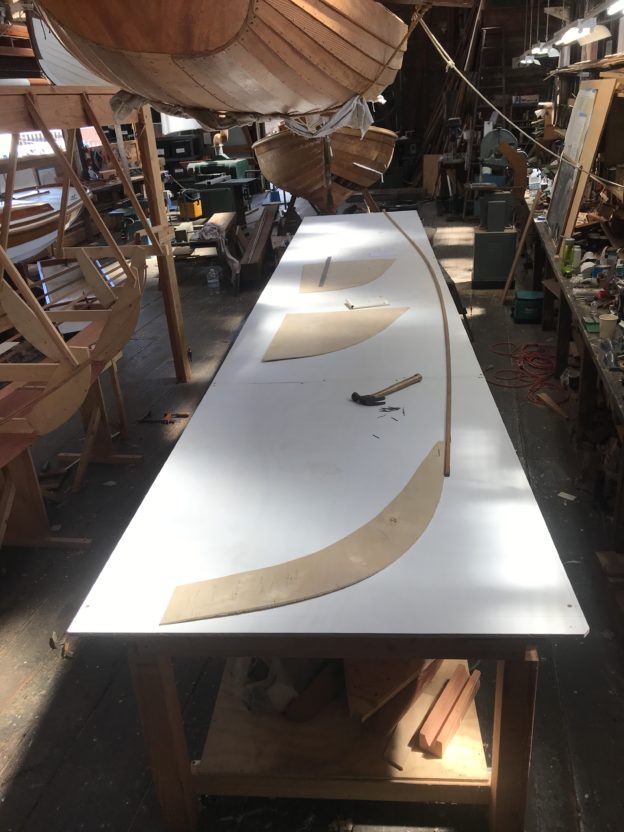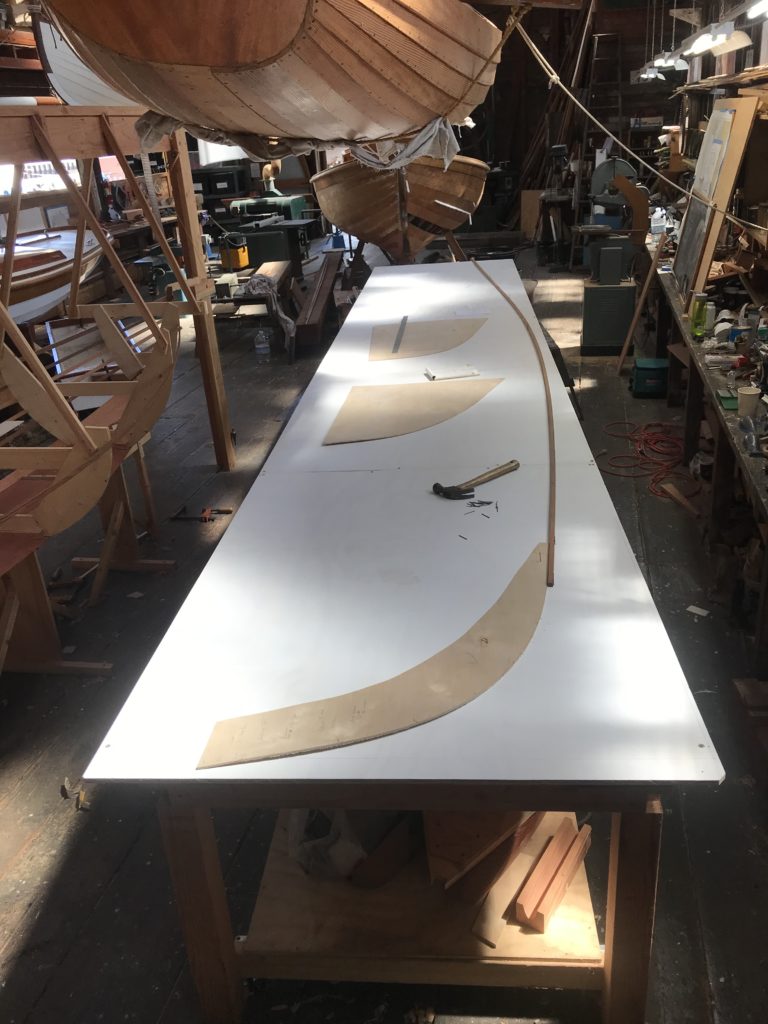 This is class is for experienced woodworkers who want to broaden their knowledge of classical wooden boat design, lofting, and traditional plank-on-frame boatbuilding with an emphasis on hand-tools. This is an ongoing class, Mondays and Thursdays from 9am to noon.  We are now working on our latest historical project, the 1924 sloop Dolphin (see description under Projects and Events).  
Instructor: Bob Darr.
Tuition: $100 a month.  Experienced woodworkers interested in this class may join at any time.  Contact us at arqueschl@sbcglobal.net
Before being accepted into the class, applicants must visit the school to introduce themselves.  Such introductions are to be scheduled in advance online. They usually take place on Mondays and Thursdays between 11am and noon.  If the applicant is sufficiently qualified, we offer a free audit of the class.
June 7, 2021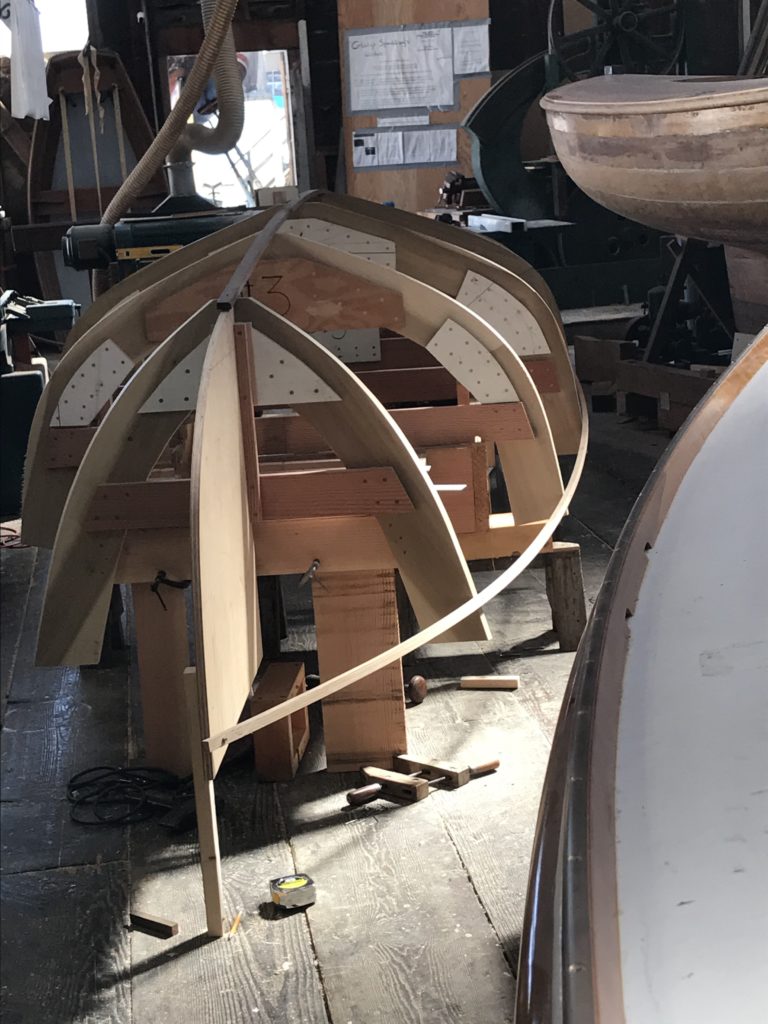 June 5, 2021
Dolphin molds on strongback waiting for ribbands.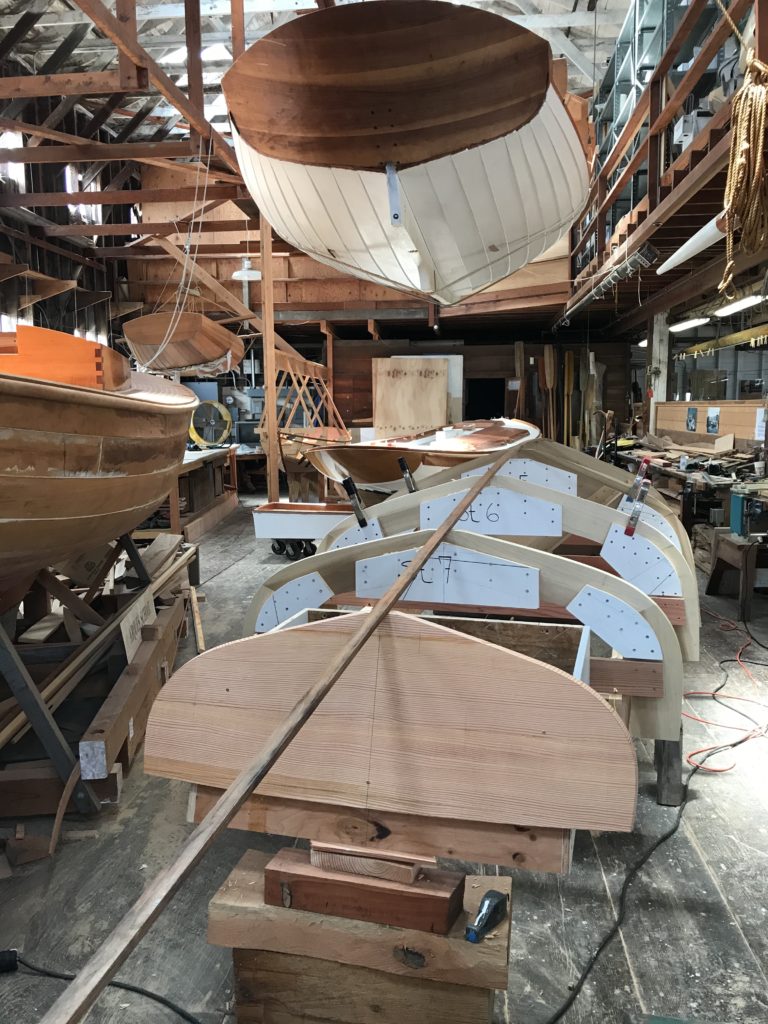 MAY 24, 2021
Advanced Class student Rick Irving at the stern of Dolphin, now set up with most of its molds. Rick did a great deal of the work on this project.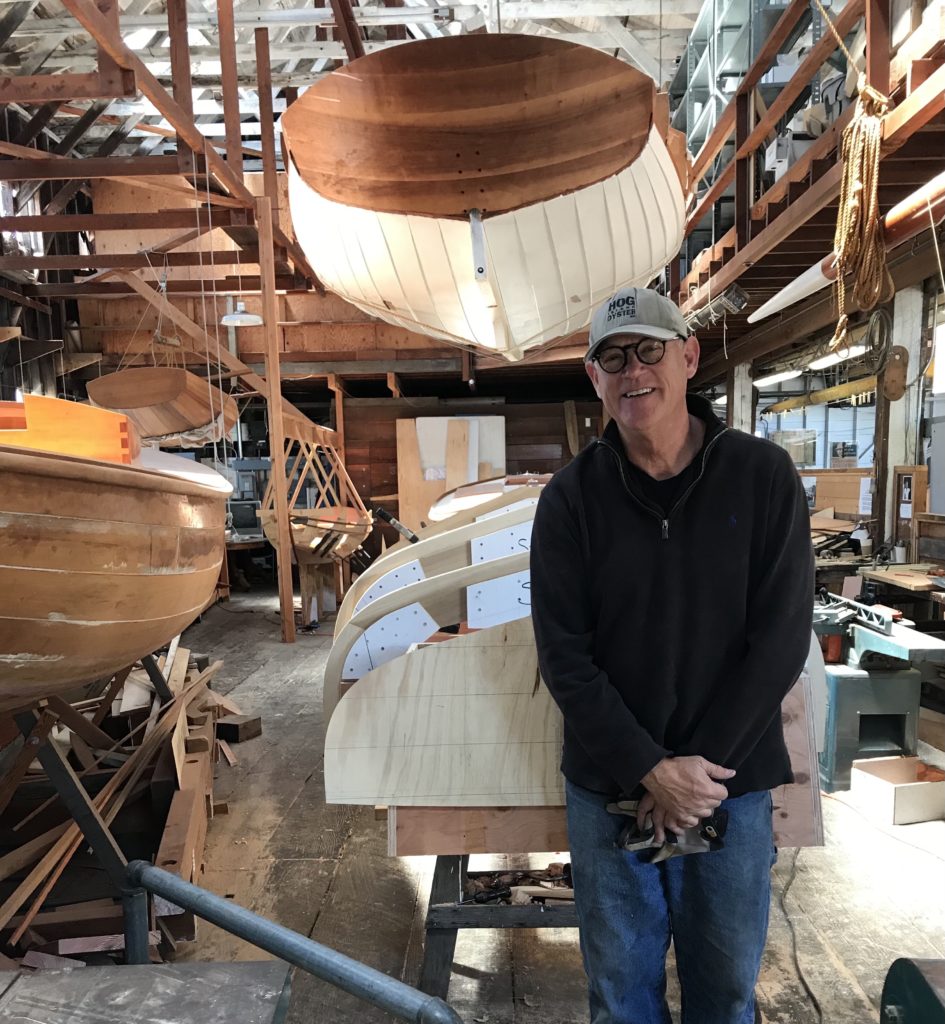 MAY 17, 2021
THE CLASS HAS MADE DOLPHIN'S MOLDS AND THEY ARE NOW BEING ADDED TO THE BOAT'S STRONGBACK:  SEE BELOW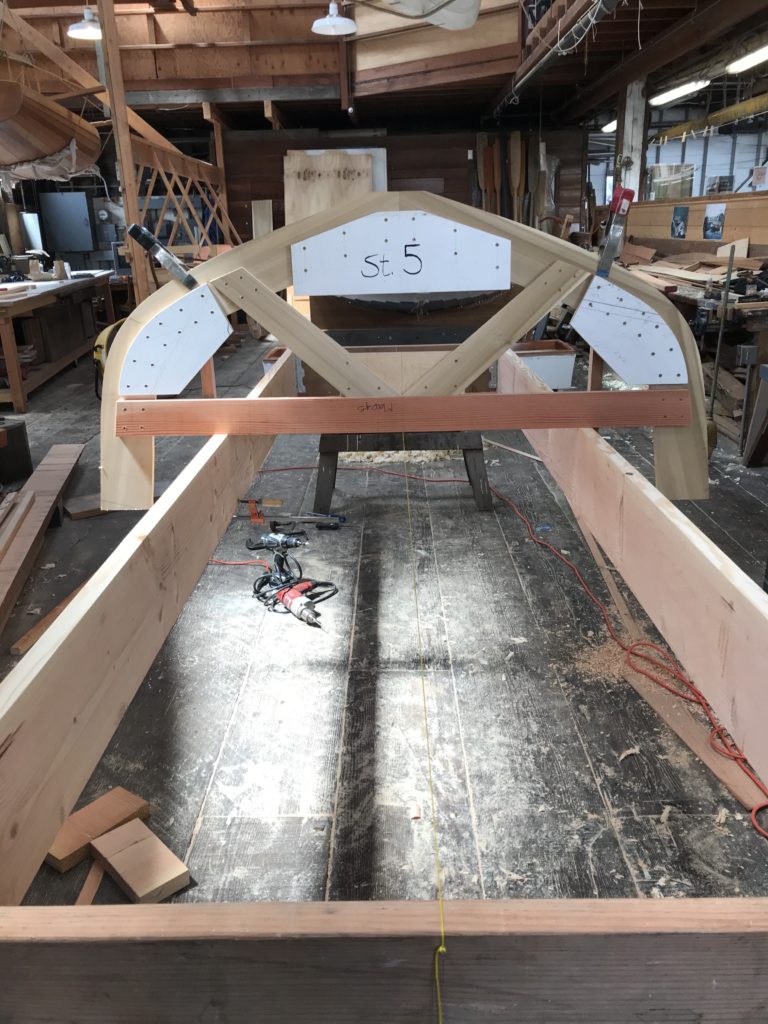 August 31, 2020
Dolphin's lines have been completed along with construction drawings and table of offsets.  We now plan to make the molds and build a strongback for the assembled molds, a portable strongback that can moved by trailer to any location that we wish to display the work of steam-bending the frames and planking.  We hope for contributions from the public to make the building of new 'Dolphin' possible.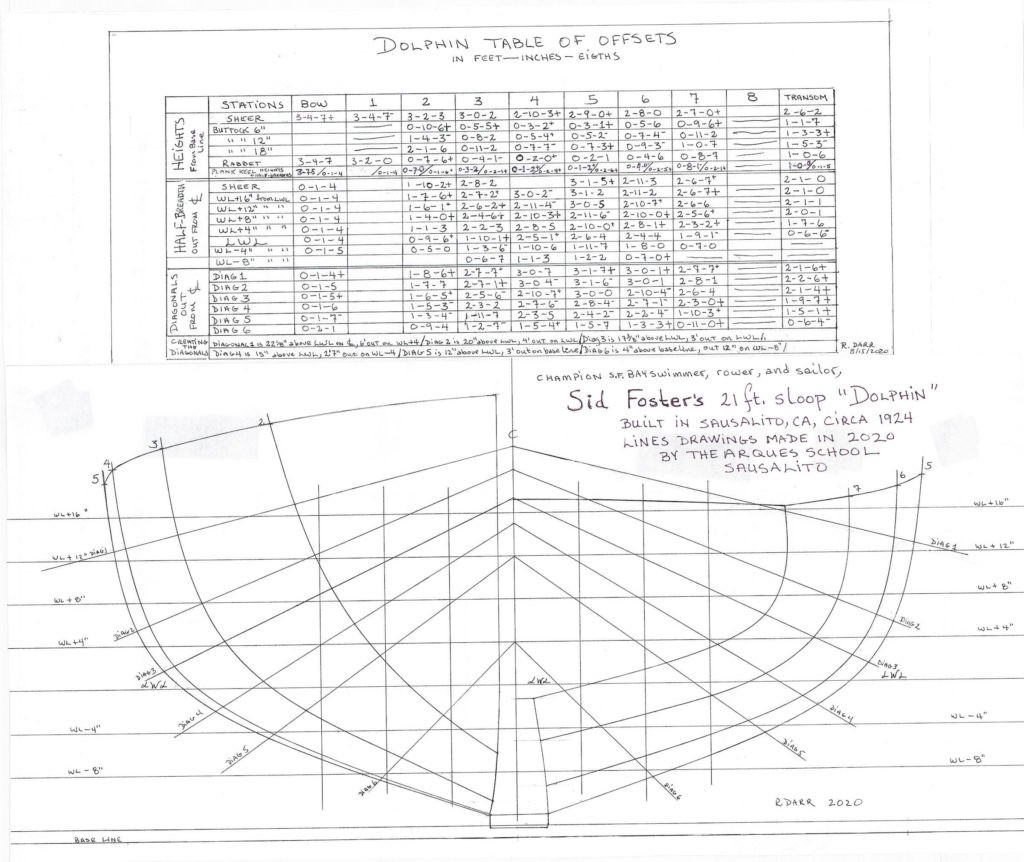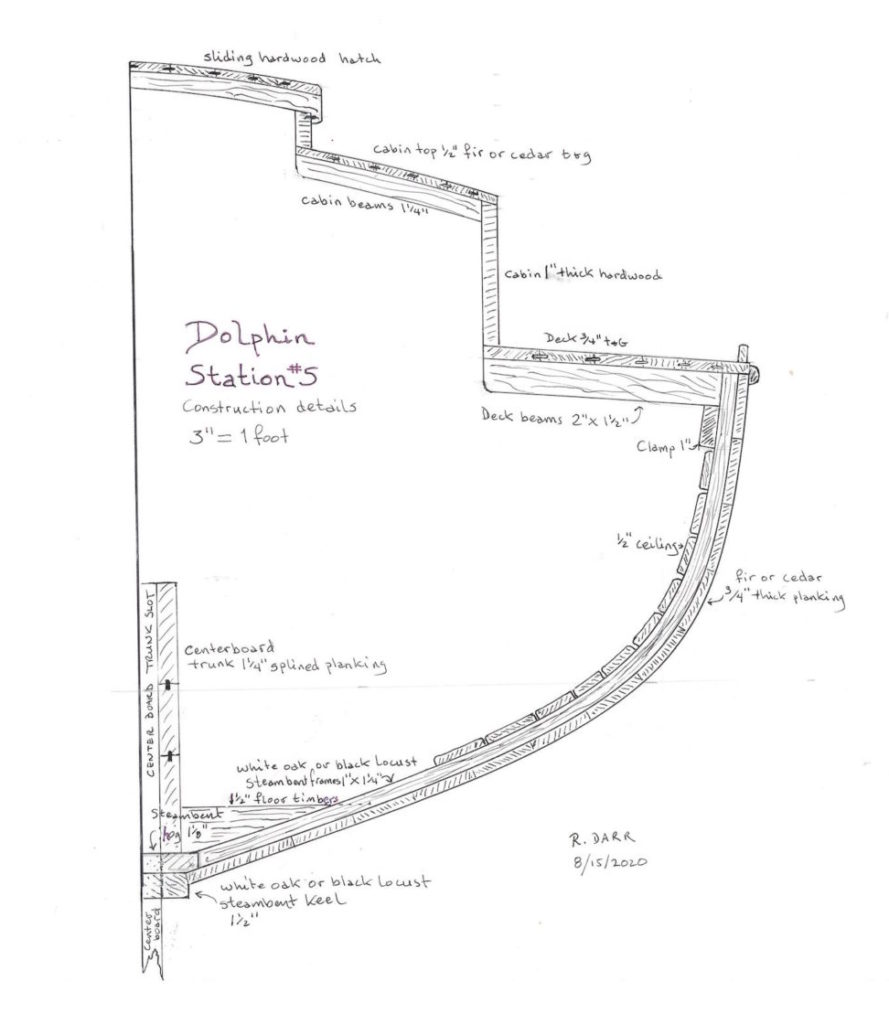 August 4, 2020:
For the last fifty years or more, Dolphin has had an iron bulb keel bolted to her underside as seen in the photo below. On the inside of the hull, a clumsily installed two by ten inch plank covered the original oak keel to help support the strain of the iron keel. Roy Cano (as a young man at the left of the old photo below) had told me that according to Ralph Flowers, instead of the iron keel, Dolphin had been built with a retractable centerboard.  The last communication that I had with Roy was on January 22, 2020, when he sent me this old photo of Dolphin with her old keel (Roy was discovered drowned in Sausalito on January 29). Earlier he had written that the iron keel was off as I had requested so that Dolphin could be more easily moved.  The other reason I wanted the iron keel off was to document whether or not Dolphin once had a centerboard.  With the iron keel off, we verified that Dolphin did indeed have a centerboard.  We measured the exact length and width of the original trunk.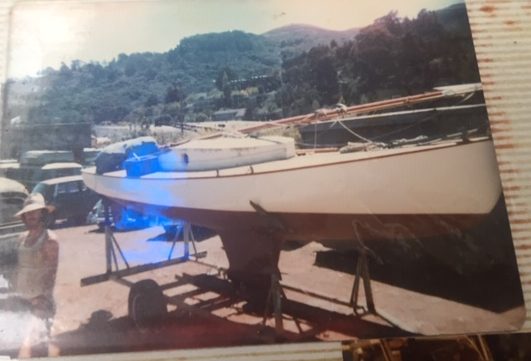 The image below is of Dolphin's construction drawing in profile where I have drawn in a centerboard with trunk as might have once existed.  With the board down as shown, Dolphin would draw three feet.  The old centerboard slot was two and a half inches wide indicating that her original centerboard must have been weighted.  To increase Dolphin's stability, we could build the lower portion of the centerboard in lead which would add about seven hundred pounds of ballast where we most need it.
 Bob Darr

BELOW IS DOLPHIN'S BODY PLAN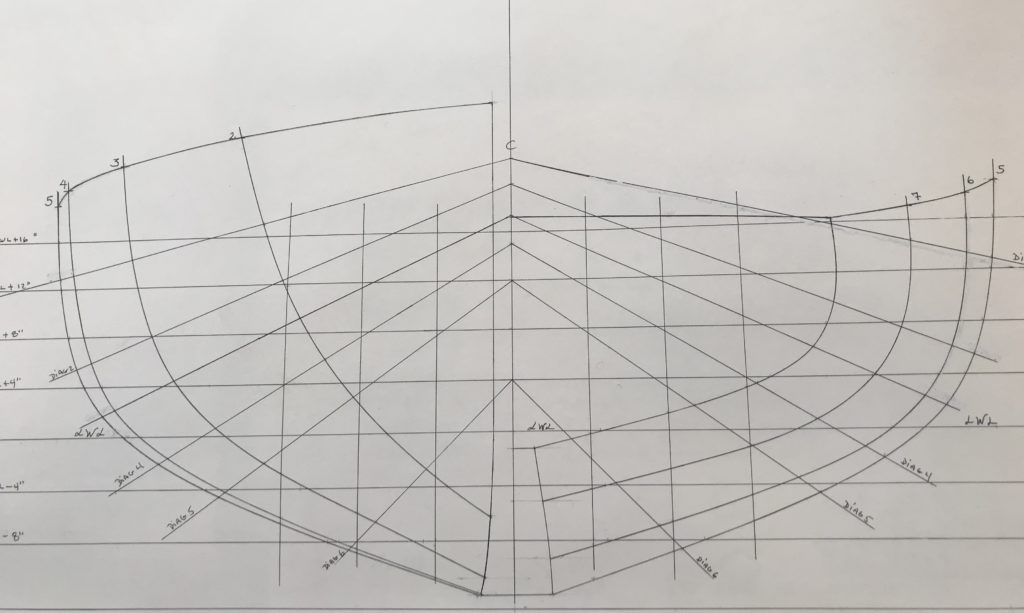 JUNE 4, 2020: The above image is of Dolphin's body plan.  The Advanced Class will make patterns for Dolphin's backbone and transom in addition to cutting and assembling pine molds for each section of the body plan.
MAY 6, 2020: The photo to the right shows the first stage of Dolphin's lofting, the transfer of hull shapes taken from the boat and reproduced as a full sized drawing of the boat in several two-dimensional views.  The profile, half-breadth, and body-plan views must all come into accord for the boat to be deemed properly "faired" and ready to build.