Building a Replica of Syd Foster's Sloop Dolphin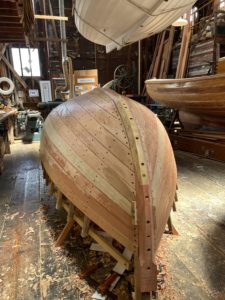 ABOVE;
DOLPHIN READY FOR PLUGGING AND CAULKING OF THE SEAMS
MARCH 15, 2023, DOLPHIN GETS HER FIRST SHUTTER PLANKS!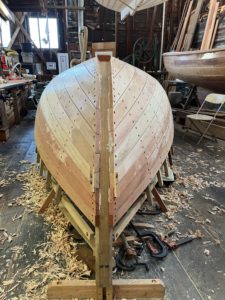 Dolphin moves forward with more planking from the coast fir tree that we cut in 2018.  Loon, which can be seen in the first photograph located at the far end of the shop is soon to be moved over to our yard space nearby for finishing. We have all of her rigging and sails ready. What's left is to install the drop keel and rudder.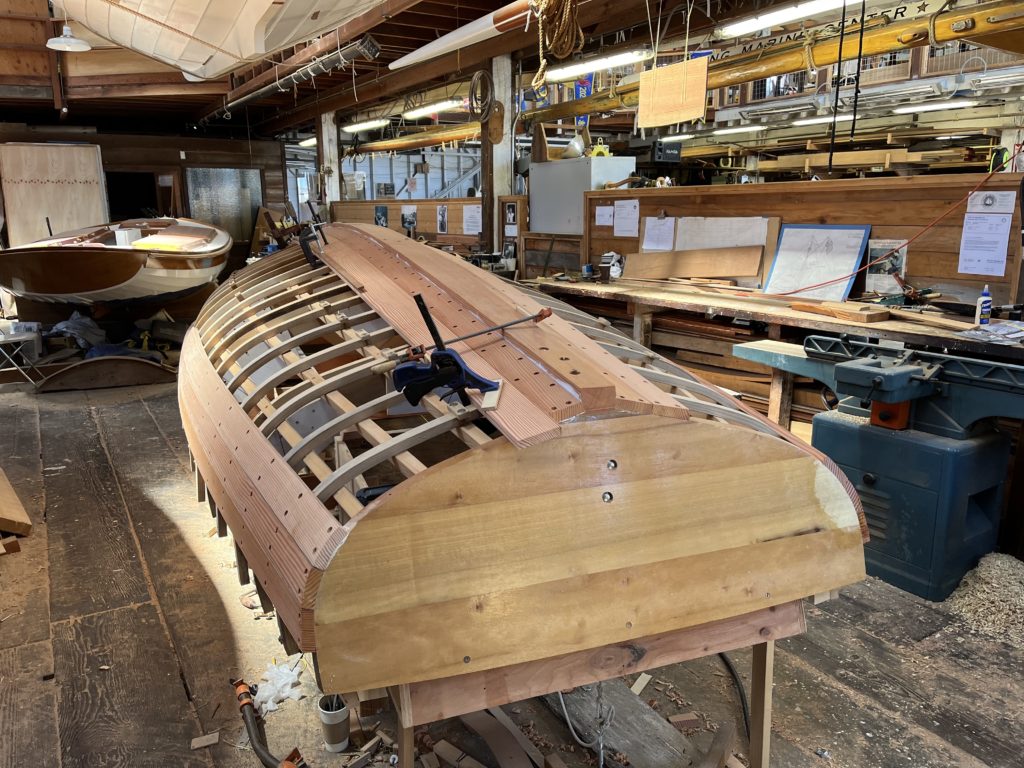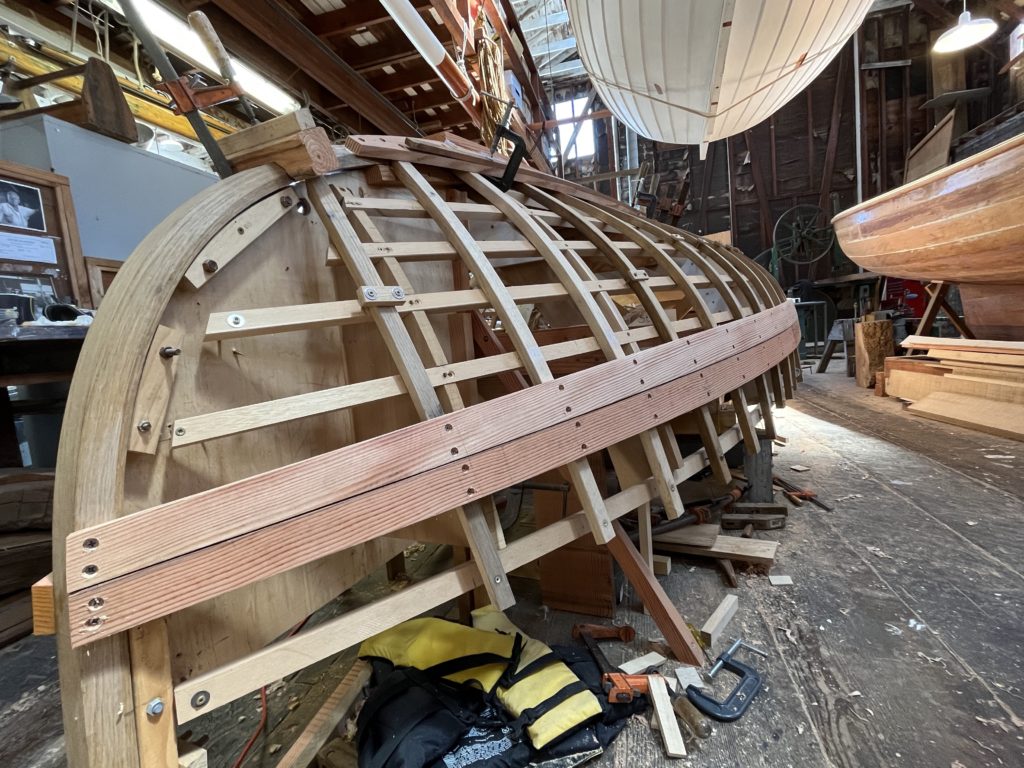 March 15, 2022
We have now started planking the Dolphin. The lumber used is coast fir that we chainsaw milled at Camp Meeker and had resawn for air drying a few years ago.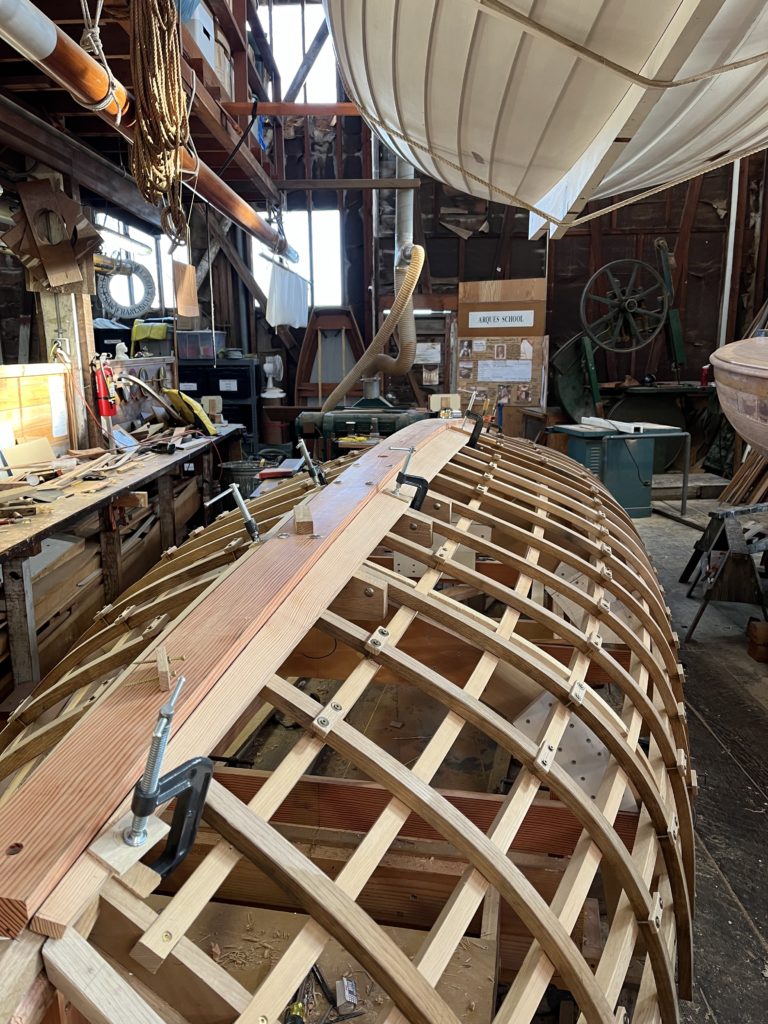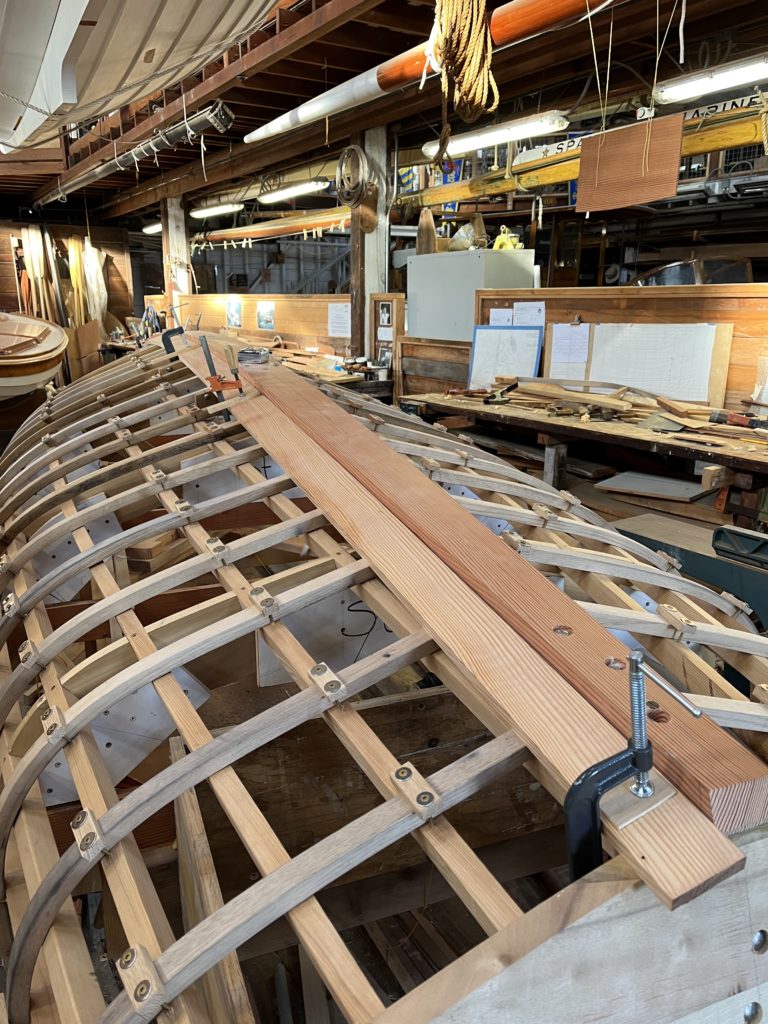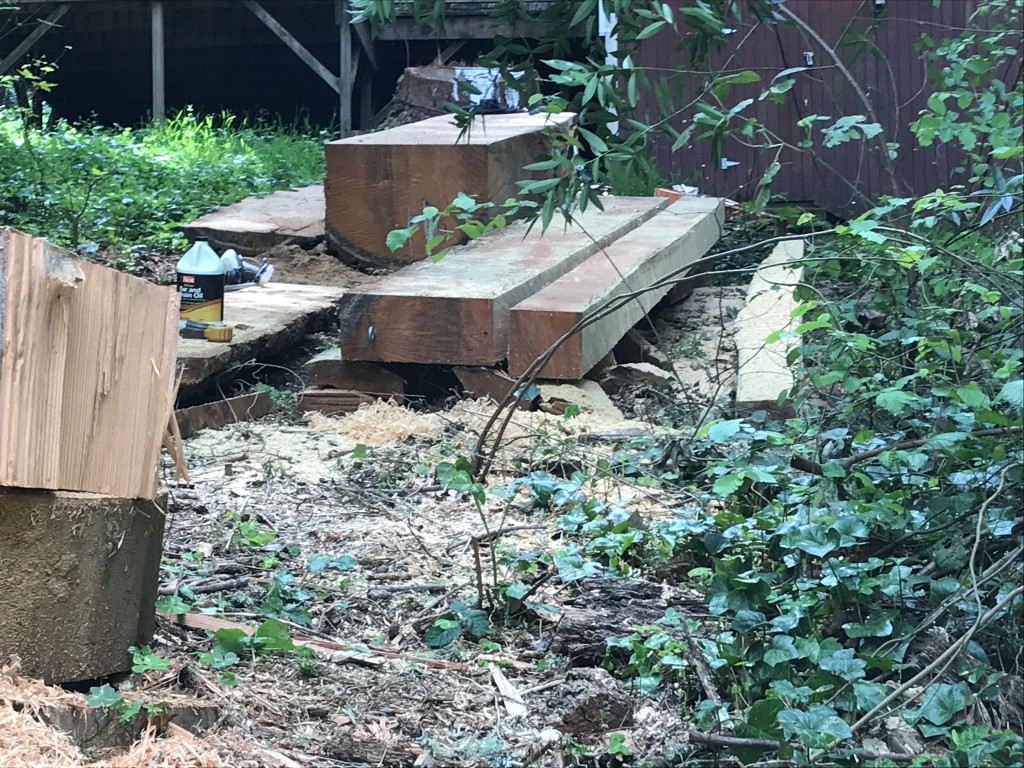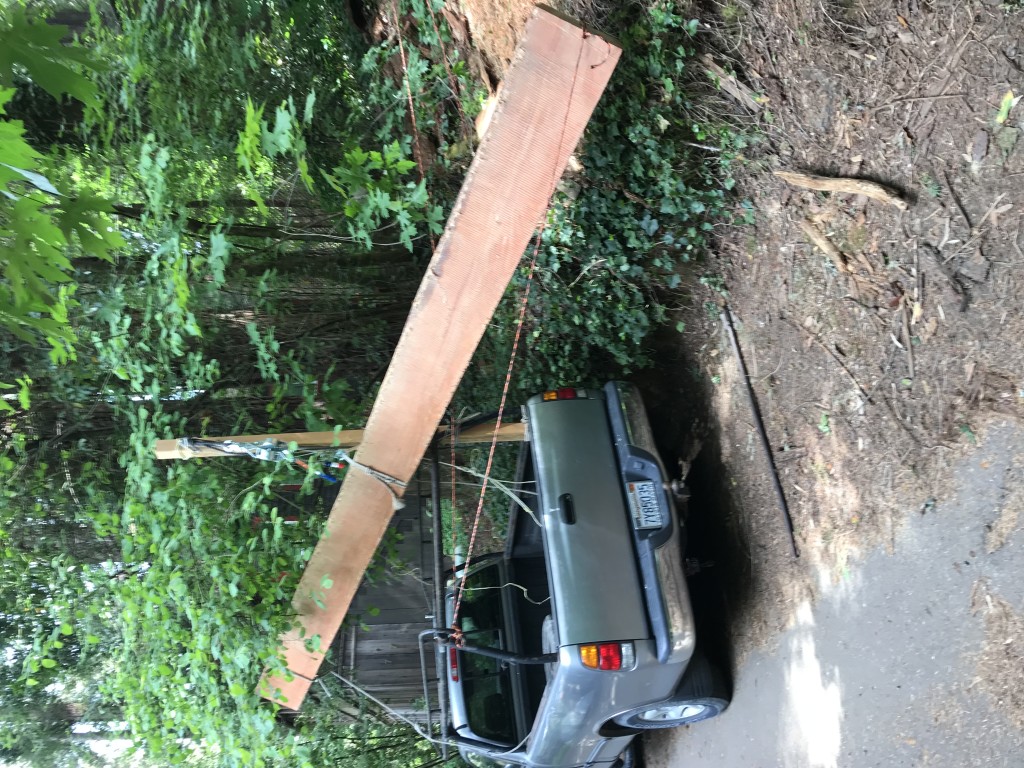 February 14, 2022
After a delay in procuring more bending oak, we just finished framing the Dolphin and we are shortly going to start planking the boat.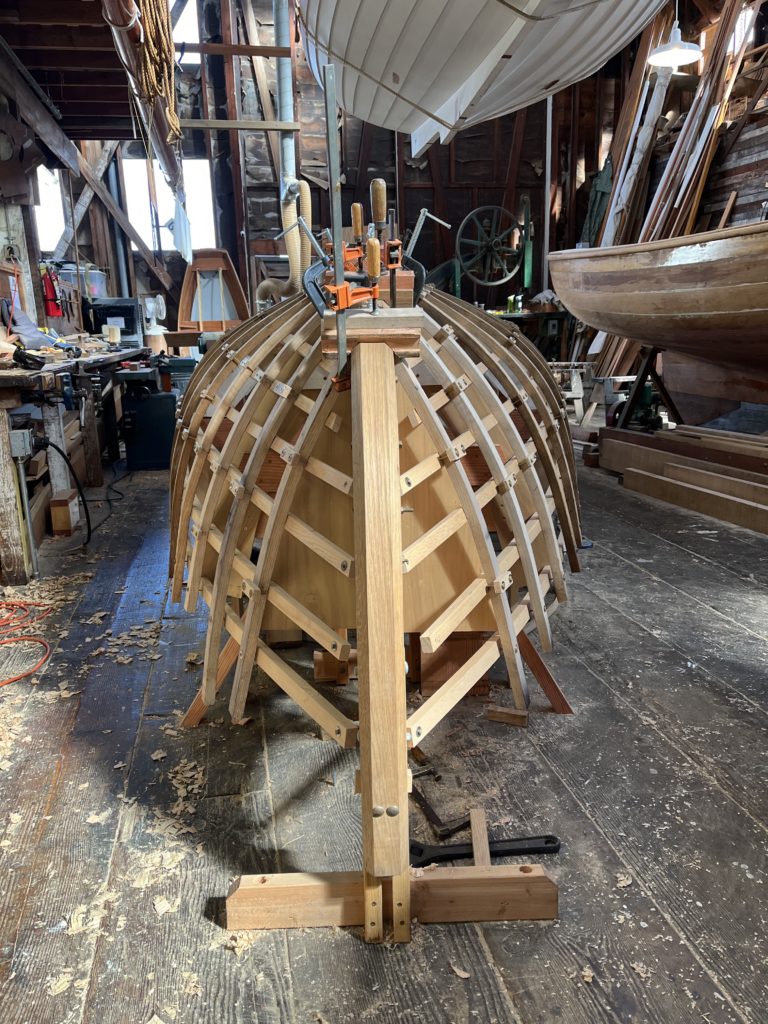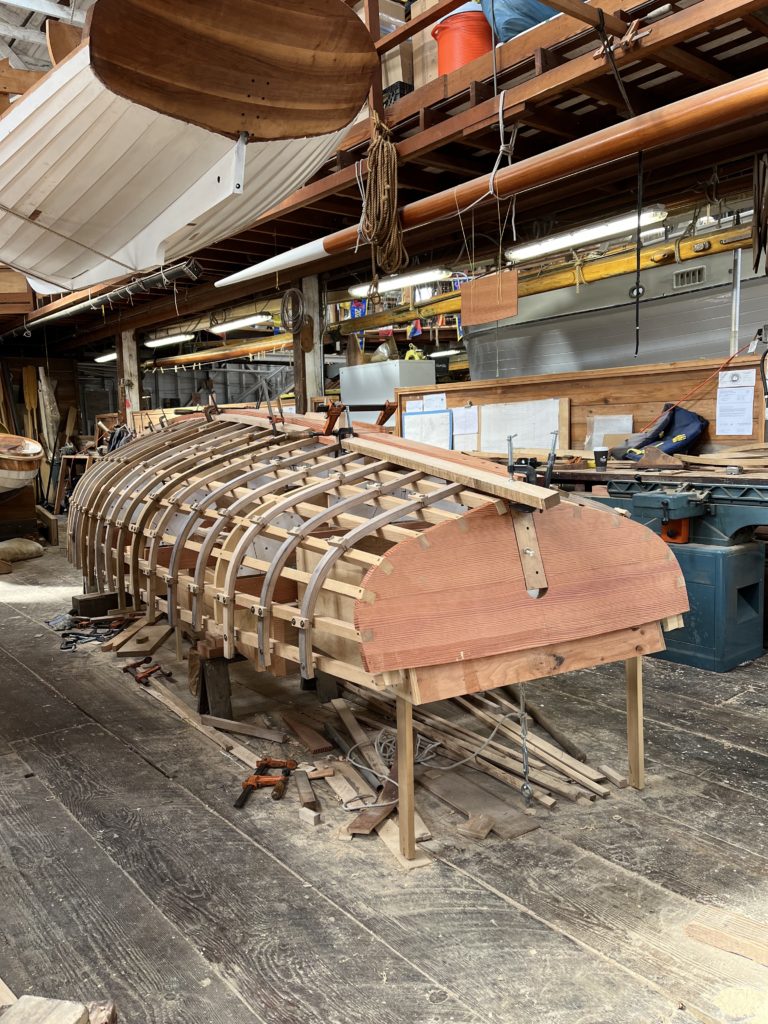 October 1, 2021
Dolphin's backbone structure beefed up with keel cut from a coast fir tree that we milled in 2018 at Camp Meeker, CA.  As frames are bent in, floor timbers will be installed before planking.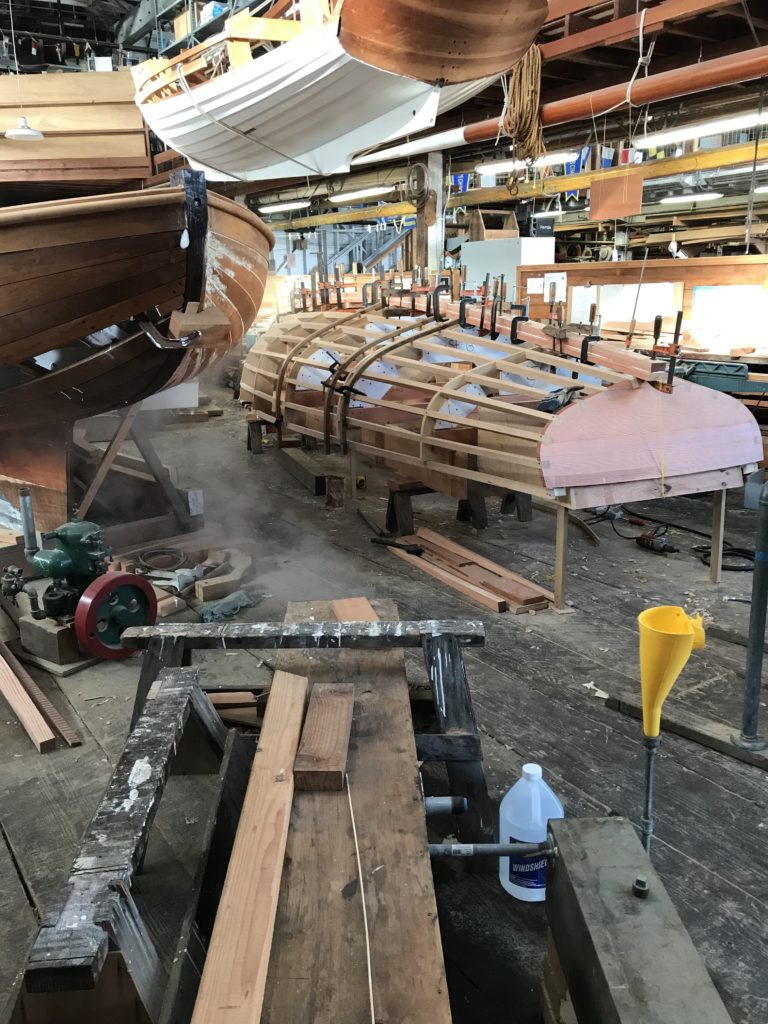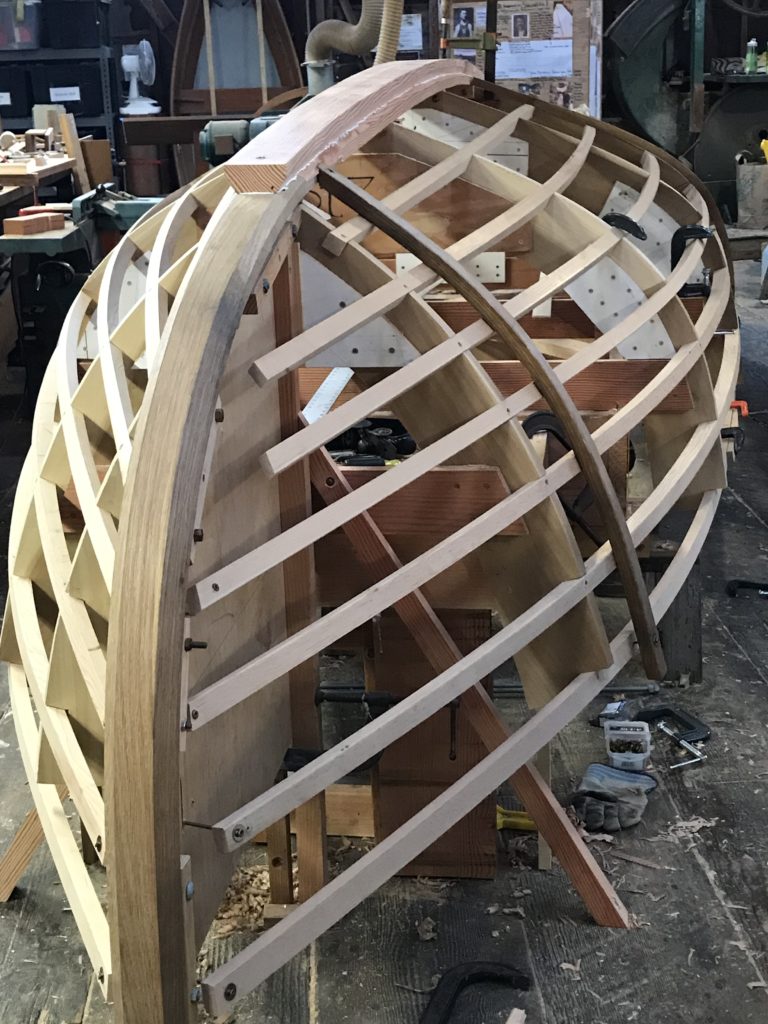 August 16, 2021.  The original Dolphin's stem is a long piece of steam-bent white oak that would have been typical in many wooden lifeboats and other small vessels in the early 20th century.  Several Sausalito boatshops were building lifeboats at the time.  This approach is a faster than building a strongly curved stem out of several pieces of wood, but it requires a very sturdy building form that can take the strain of a large piece of steam-bent oak.  The photos below show Dolphin's replica with a stem that a student and I wrestled into place last Saturday.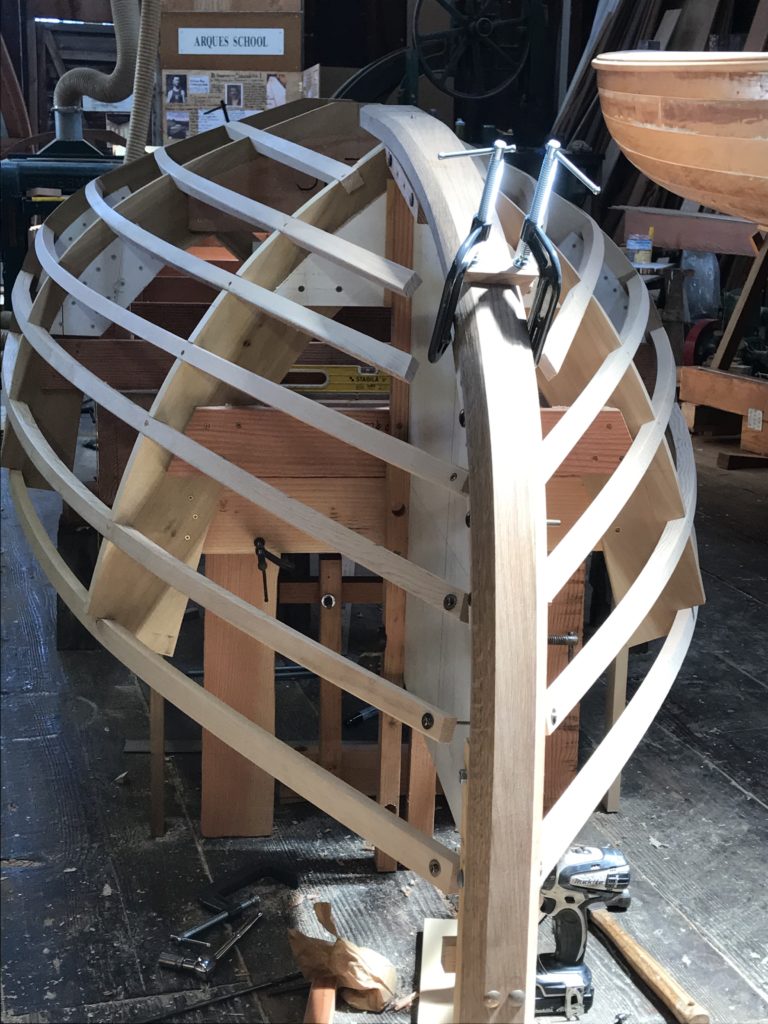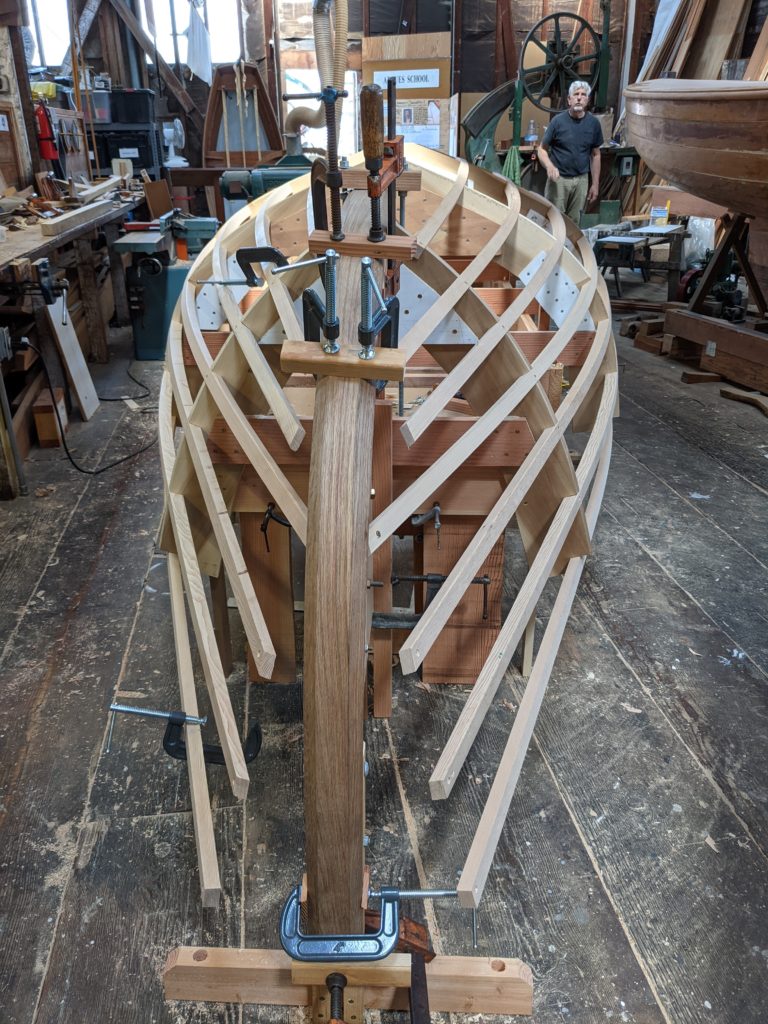 August 2, 2021, First one-inch by one-and-a-quarter-inch oak frame steam bent over the Dolphin's building form. This test went fine. Students will now be able to jump in.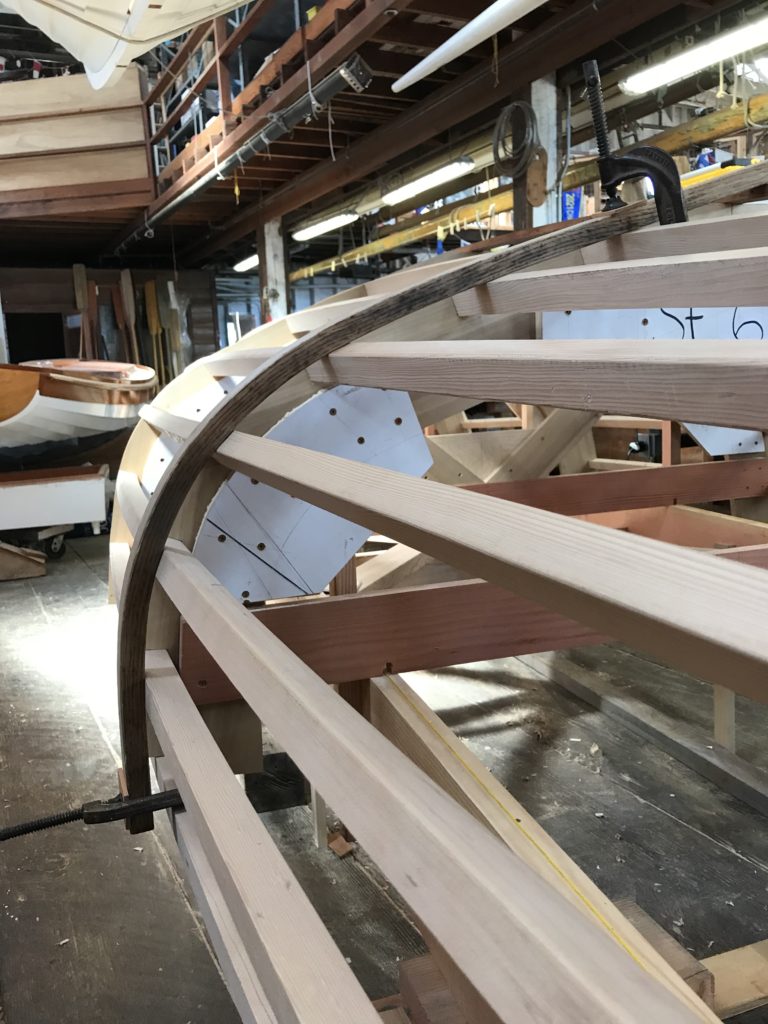 BELOW ARE TWO PHOTOS OF THE SLOOP DOLPHIN'S BUILDING FORM AS OF JULY 19, 2021.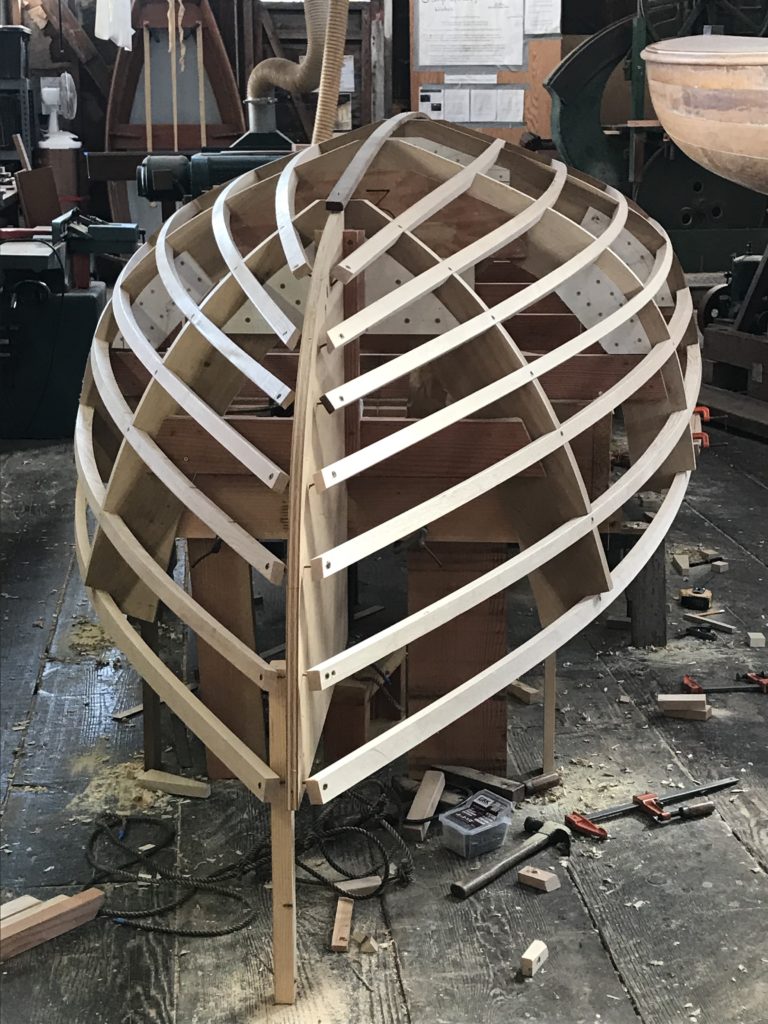 Steam bent frames can now be bent over the building form prior to adding the plank keel and the 3/4″ thick fir planking that we have had air drying for more than a couple of years.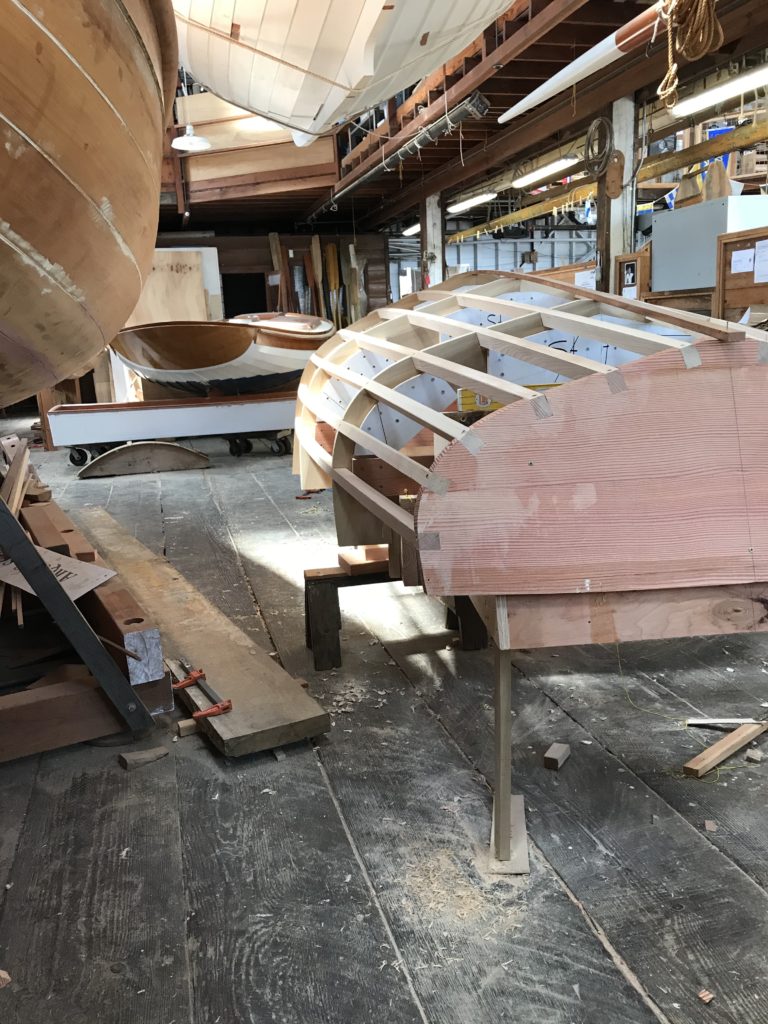 July 6, 2021
Today we received our planks of bending oak. During this last month we have continued to work on the building form by adding more bracing, and by cutting in slots for the ribbands over which the steamed oak frames will be bent.
JUNE 7, 2021
We are very grateful to the Master Mariners Benevolent Association for the $1,500 grant they recently made to the Arques School, to be spent on buying materials to fabricate Dolphin's strongback. (See photos below).  All of Dolphins molds have been installed and we are now preparing the boat for steam bent frames.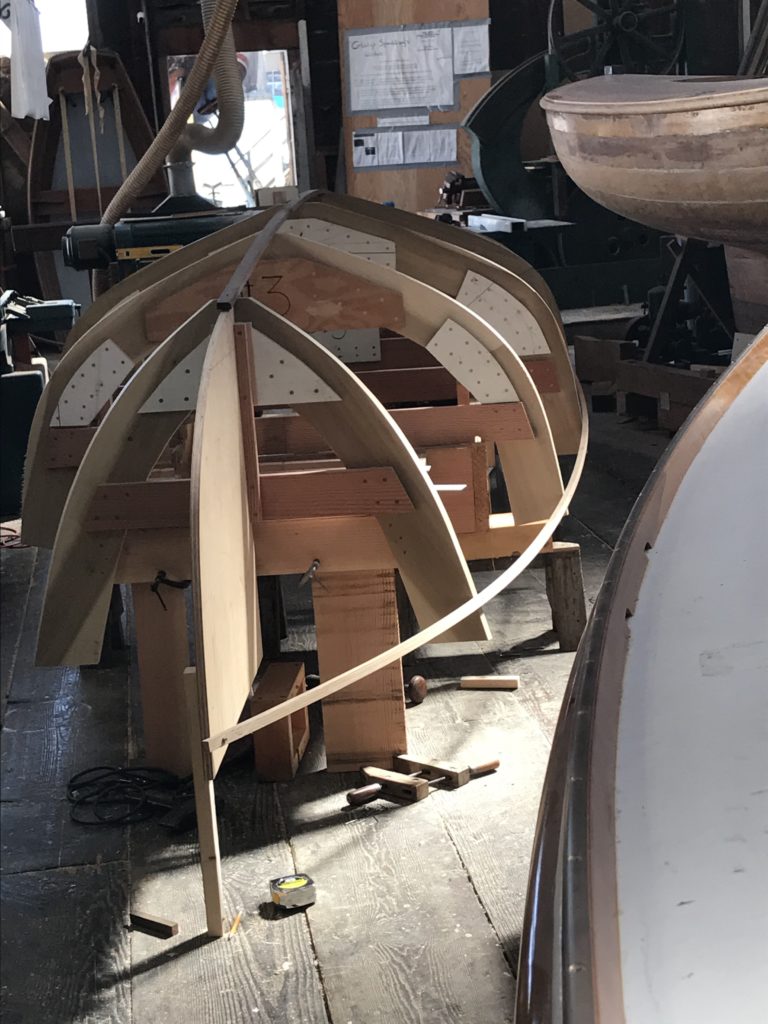 JUNE 5, 2021
All Dolphin molds assembled and installed on strongback.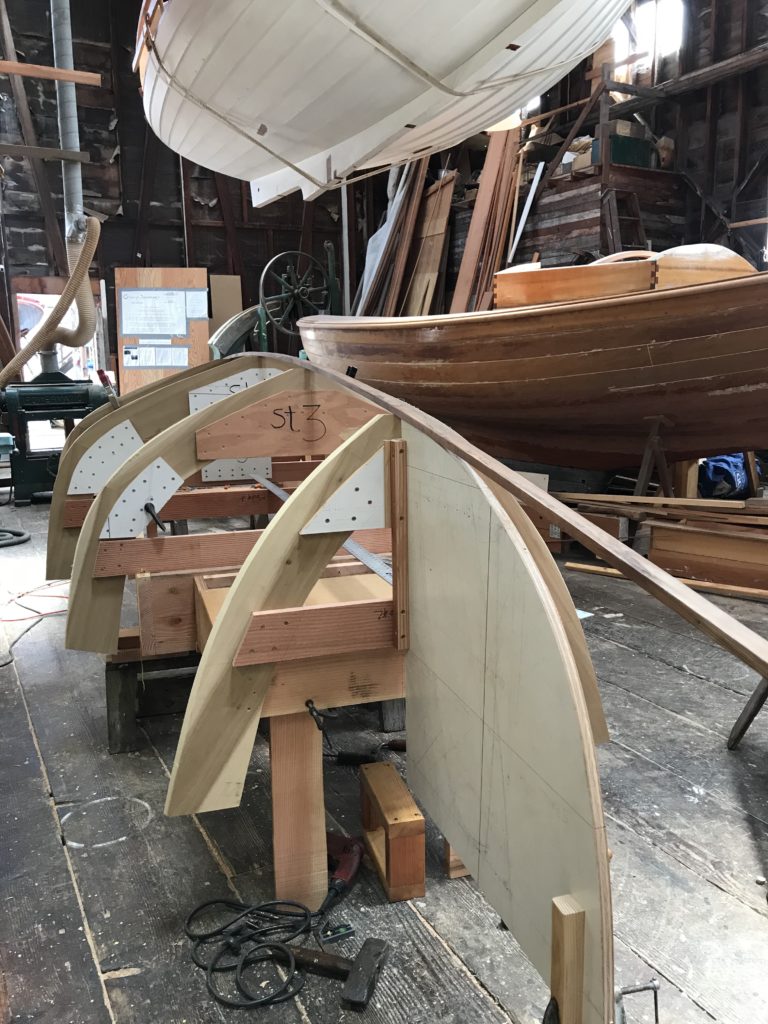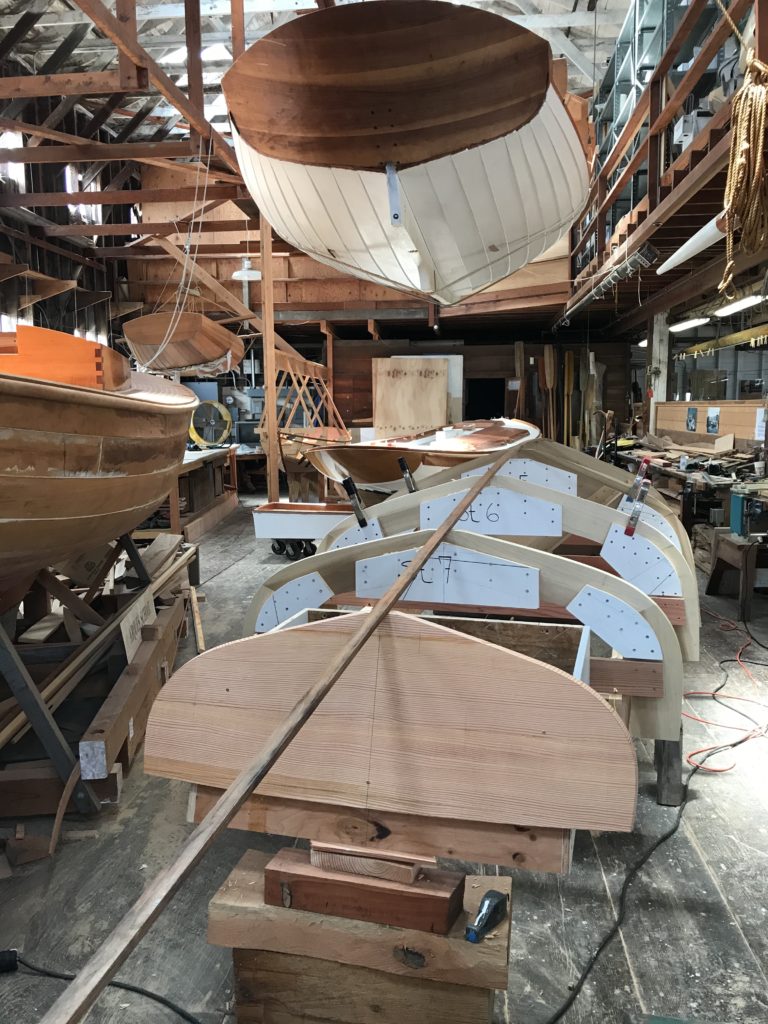 MAY 24, 2021
Advanced Class student Rick Irving at the stern of Dolphin, now set up with most of its molds. Rick did a great deal of the work on this project.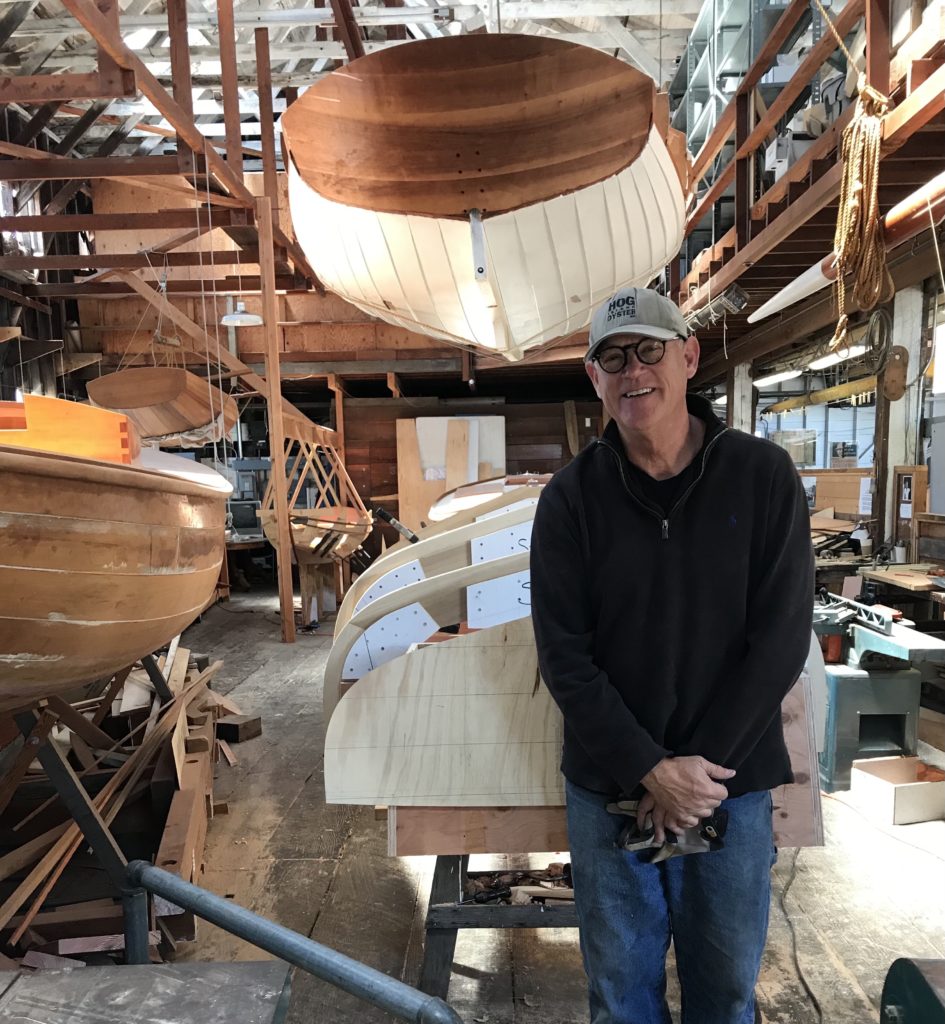 D O L P H I N.
SYD FOSTER'S SAN FRANCSICO BAY SAILING AND RACING YACHT BUILT BY MENOTTI PASQUINUCCI IN SAUSALITO AT HIS BOATSHOP ON TURNEY STREET, CIRCA 1924.
BELOW:  STRONGBACK FOR DOLPHIN BEING ASSEMBLED WITH MOLDS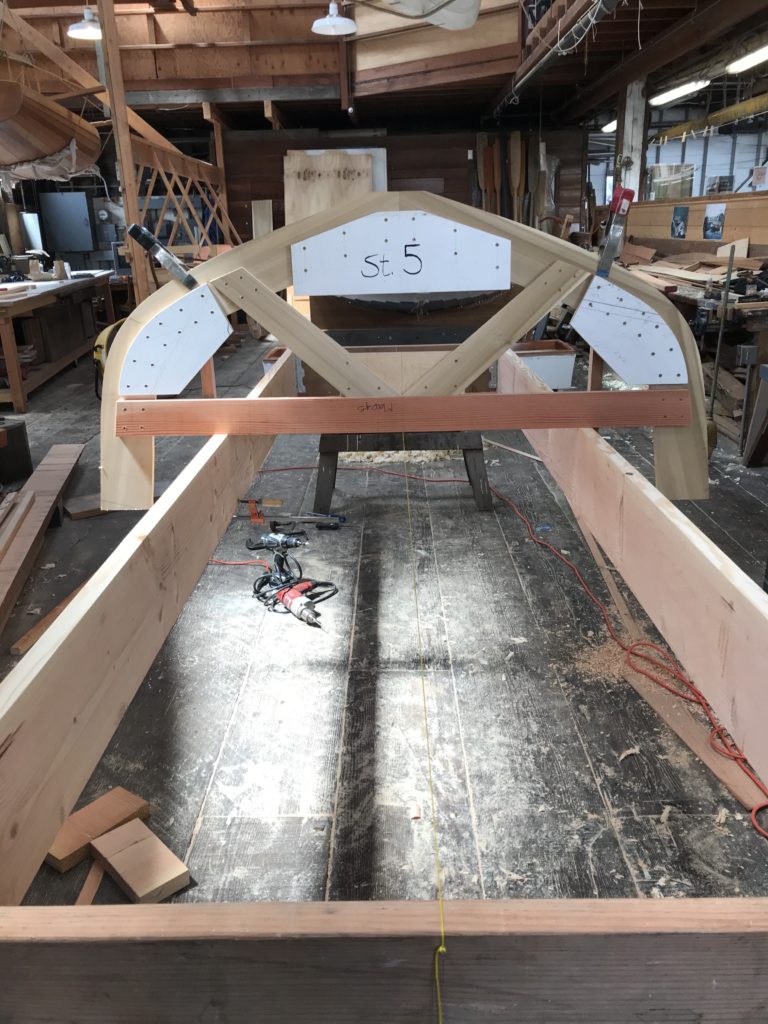 May 17, 2021. We are very grateful to the Master Mariners Benevolent Association for the $1,500 grant they recently made to the Arques School, to be spent on buying materials to fabricate Dolphin's strongback. (See photo above).  All of Dolphins molds have been made and we are now in the process of installing them. 
ONGOING EFFORTS TO ESTABLISH DOLPHIN'S ORIGINS                                        
Student Contributors to the Project: Rick Irving, Perry Chappano, Lee Bruno.
Dolphin's owner, Sid Foster (also spelled Syd), was an amazing guy.  He was a champion swimmer at San Francisco's  Dolphin Club in the 1920s, famous for swimming across the waters of the Golden Gate.  This may explain why he so daringly raced on San Francisco Bay, unperturbed by its challenging currents and fluctuating winds.  Sid was quite competitive so we have reason to believe that he carefully chose the sailboat that he successfully raced for decades, and which he likely named after his favorite club, the Dolphin.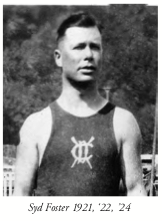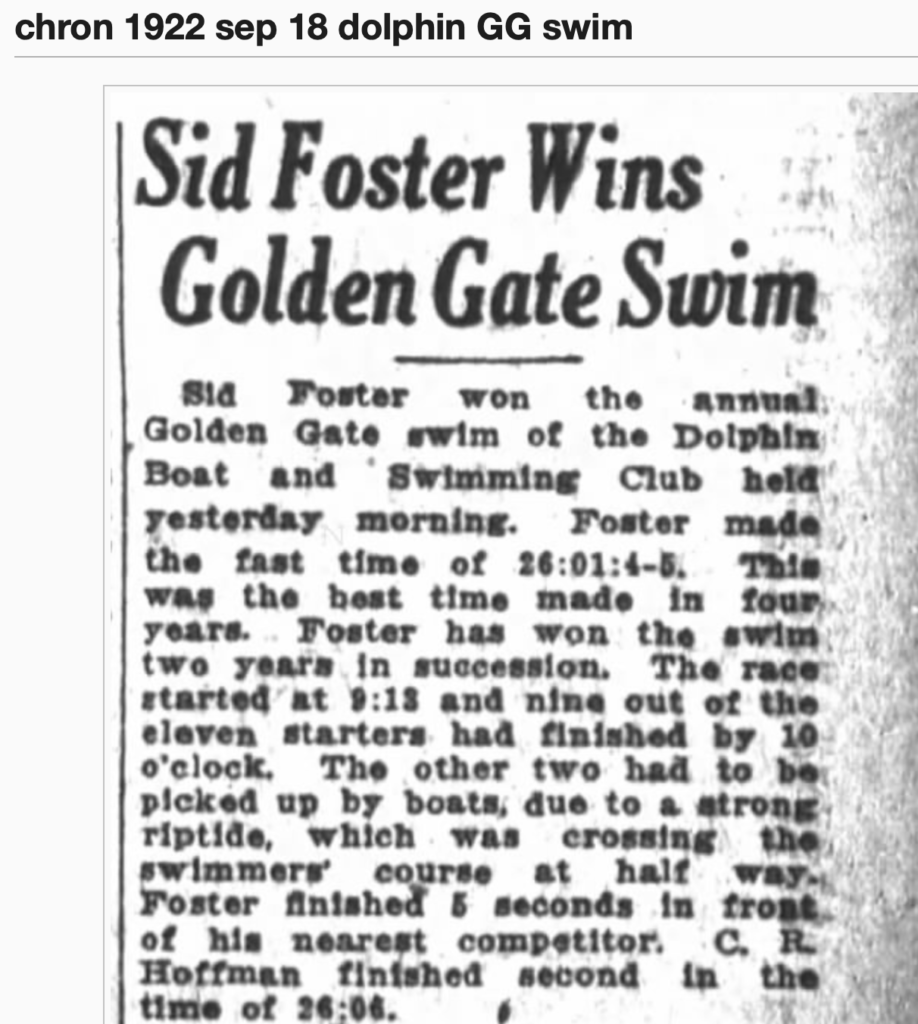 July 13, 2020- We are now about six months into the Dolphin project and have yet to ascertain who actually designed the vessel.  After doing a fairly comprehensive search through the literature and lines drawings of existing sailboats of similar type and era, there is only one boat that comes close to resembling Dophin.  It is Ben Seaborn's Knockabout, Hull No. 7.  That design was built by Blanchard's boatyard on Lake Union in Washington starting in 1934. A total of 24 boats were built and some of them still sail on Lake Union. Dophin and Hull No. 7 have almost the same overall length and beam. There is remarkable similarity to the shape of their sheer lines when viewed in profile. In addition, they both have the same sloop rig, fractional with neither spreaders nor jumper stays. Their masts are just about exactly the same distance from the bow. Looking at differences between the two boats, Dolphin is deeper at the bow and has more deadrise in all of its sections. Hull No. 7's transom is narrower, higher, and rounder than Dolphin's. Thus Dolphin has greater displacement and more deck space than Hull No. 7. Here I've lined up Dolphin's (on the left) and Blanchard/Seaborn's (on the right) body plans to the same load waterline.  Their ballast keels are not shown here. Notice that Dolphin's transom is slightly underwater where it receives a fitting for an outboard rudder. Here we can easily see that Dolphin is a deeper and heavier boat.

Blanchard claims to have co-designed Hull No. 7 with Seaborn.  If so, Blanchard, who was considerably older than Seaborn, might have had a hand in designing Dolphin.  Blanchard had built many similar, though somewhat larger knockabouts before introducing Hull No. 7.  There is, of course, the possiblity that Blanchard's knockabout designs might have inspired Menotti Pasquinucci (who is claimed to have been Dolphin's builder) or some other Sausalito designer to prepare Dolphin's lines.  We have not exhausted our search through the records, but this has all gotten much harder with covid-19's impact on gaining access to records.
Bob Darr
June 4, 2020– WE ARE FINISHING THE LINES DRAWINGS OF DOLPHIN'S HULL AND WILL SHORTLY PREPARE CONSTRUCTION PLANS. BELOW IS AN IMAGE OF DOLPHIN'S BODY PLAN. THE COMPLETED DRAWINGS WILL INCLUDE A TABLE OF OFFSETS.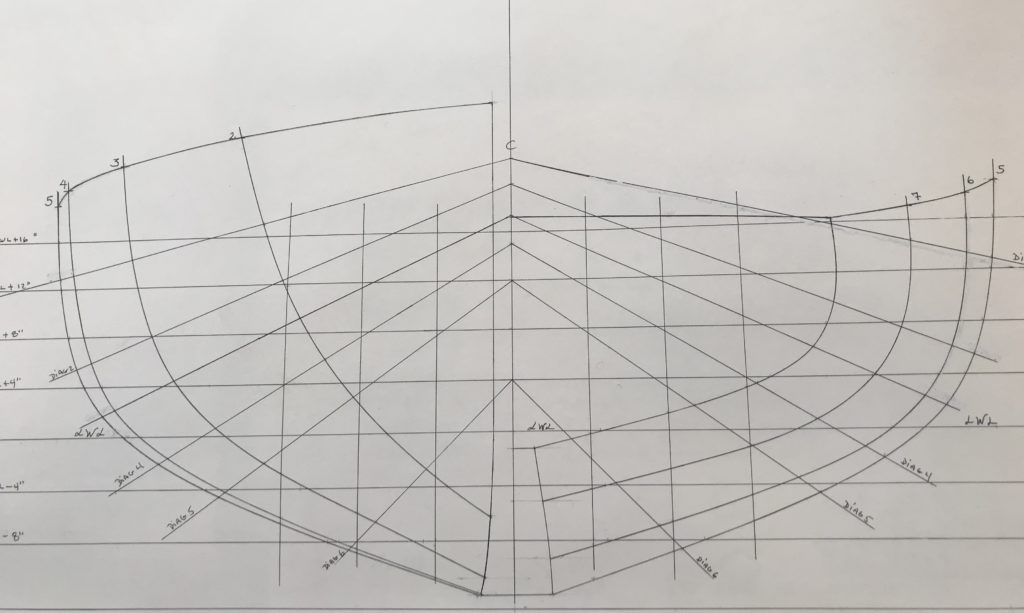 May 21, 2020-THE LOFTING OF DOLPHIN'S HULL SHAPE IS NOW COMPLETED:  From the faired lines of the lofting, we will prepare a full set of lines drawings of the sloop, including a table of offsets. These plans will preserve Dolphin's lines for posterity and will be made available to the public.
May 17, 2020:  We spent most of yesterday morning reviewing the process of transferring Dolphin's hull shape to a grid on the lofting table by using long fir battens to 'fair' the shape of the boat.
INFORMATION ABOUT DOLPHIN FROM COMMODORE (WARWICK) TOMPKINS: In March of 2020, I was speaking on the phone with my old friend, Commodore (Warwick) Tompkins, and I asked him if he had heard of Dolphin. To my amazement Commodore told me that as a teenager (around 1947) he had sailed with Syd Foster on Dolphin.  He apparently crewed on Dolphin for a season and a half. I sent him the photo below and Commodore kindly sent me the following email about his recollections from those days:
Bob,
That photo looks like the boat I remember!  Rather sleeker, with the cuddy further aft than I recall.
Pasquinucci was  chief boatbuilder at Madden and Lewis'  shipyard, when WANDER BIRD was hauled and worked on.  Ralph Flowers was, I believe, general manager there.  Syd Foster was harbor master for Herb Madden.  You may be interested to know that Madden built his harbor using  piles recovered from  broken-up rafts coming south and destined for SF.  I recall he paid  fifty cents a pile to the fishermen who towed them in from the sea!
Good luck in restoring the little vessel.  When I sailed in her, I had no eye for design, being completely swept away by the experience of racing in the Bay.  I  estimate that I sailed about one and a half seasons in her.
Syd always steered from the leeward side, I do not remember him ever wearing slickers!  No spinnakers while I was aboard.
PREVIOUSLY: On January 8, 2020, Roy Cano of Sausalito came to the Arques School to ask that we help him prevent the historical sloop Dolphin from being destoyed.  The 21ft long Dolphin is said to have been built by Menotti Pasquinucci in the 1920s at his boatyard at the foot of Turney Street in Sausalito. She was built for Sid Foster, an avid SF Bay racer who worked for many years as harbormaster at the Sausalito Yacht Harbor. Sid raced Dolphin for decades out of Sausalito and Alameda. Roy Cano had worked for Don Arques from the 1970s up to the time of Don's passing. Don had explained to Roy that he too had been involved with Dophin's construction. Apparently, Don built Dolphin's cabin. Ralph Flowers, a well-known Sausalito boatbuilder and sailor who was active into the 1980s, told Roy that he had assembled the sloop's rig. For the last decade or so, Dolphin was stored on the banks of the Petaluma River. Recently, that property was being cleared for new construction.  Roy explained that he had no place to bring Dolphin, nor the means to do so.  After examining Dolphin's condition, I agreed to move it to the Arques School's storage yard for the sake of picking up the lines of the vessel by the School's Design Class and lofting it.  Sadly, Roy Cano passed away on January 29th, 2020,  a mere three weeks after coming to us for help. His son, Diego, agreed to move ahead with Roy's plan to move the boat to Sausalito. Dolphin is now safe at the School's storage yard and we are currently reseaching her history.  Our hope is that funds can be raised to preserve Dolphin for posterity.
Bob Darr