Restoring Freda's Deck, Cabin, and Transom
It was in late 1996 and early 1997 that the Arques School of Traditional Boatbuilding first considered taking on the restoration of Freda, the West Coast's oldest working yacht.  Our approach was to remove a few planks midway down on the starboard side of the boat to examine the condition of Freda's frames.  Freda's interior ceiling (the layer of planking covering the frames inside the boat) made it necessary to pull planks off from the outside of the hull.  We already knew that Freda's deck and cabin had significant, widespread dry rot.  We surmised that Freda's deck and deck beams would have to be replaced as well as her cabin, in order to prevent their collapse and the possible loss of the vessel.  We imagined restoring Freda in two or three stages, the first being to replace her deck and cabin.  If the frames had been found to be structurally compromised to the point of imminent collapse, we would not have moved forward with the restoration project.  After examining the frames, we concluded that they would likely survive another decade.  We chose to move forward with the restoration.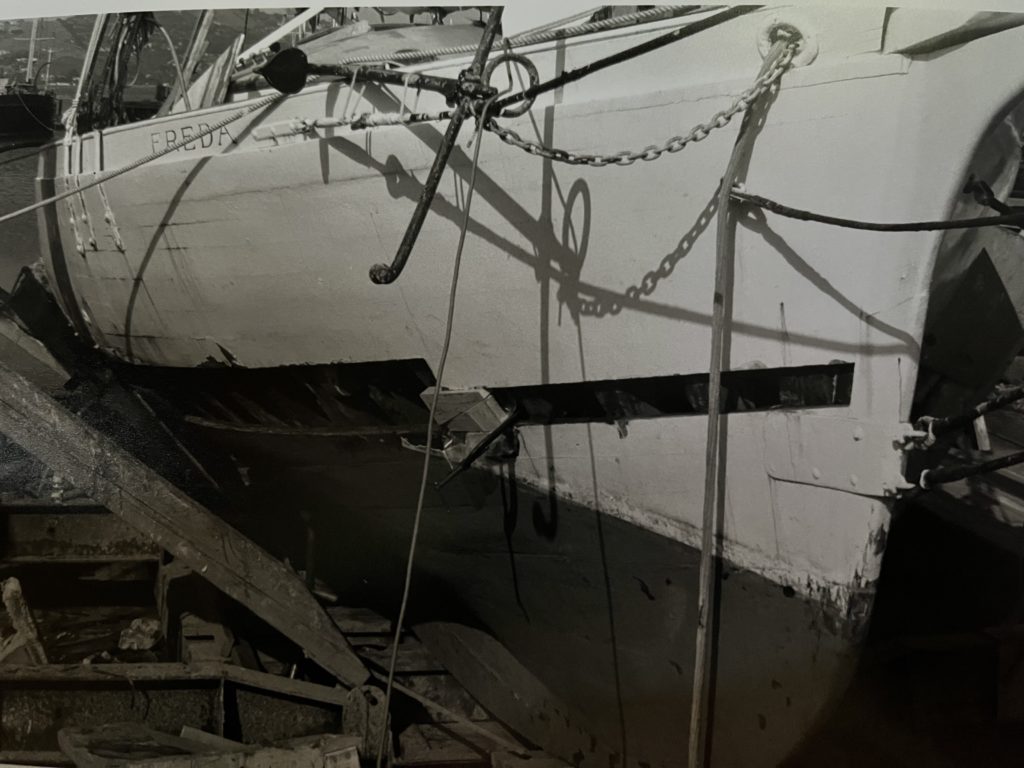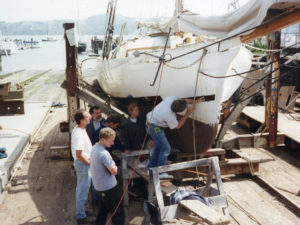 We brought Freda into the Arques School's yard space where a temporary structure had been made ready to receive Freda for what would likely be a couple of year's work to replace her deck structure and cabin.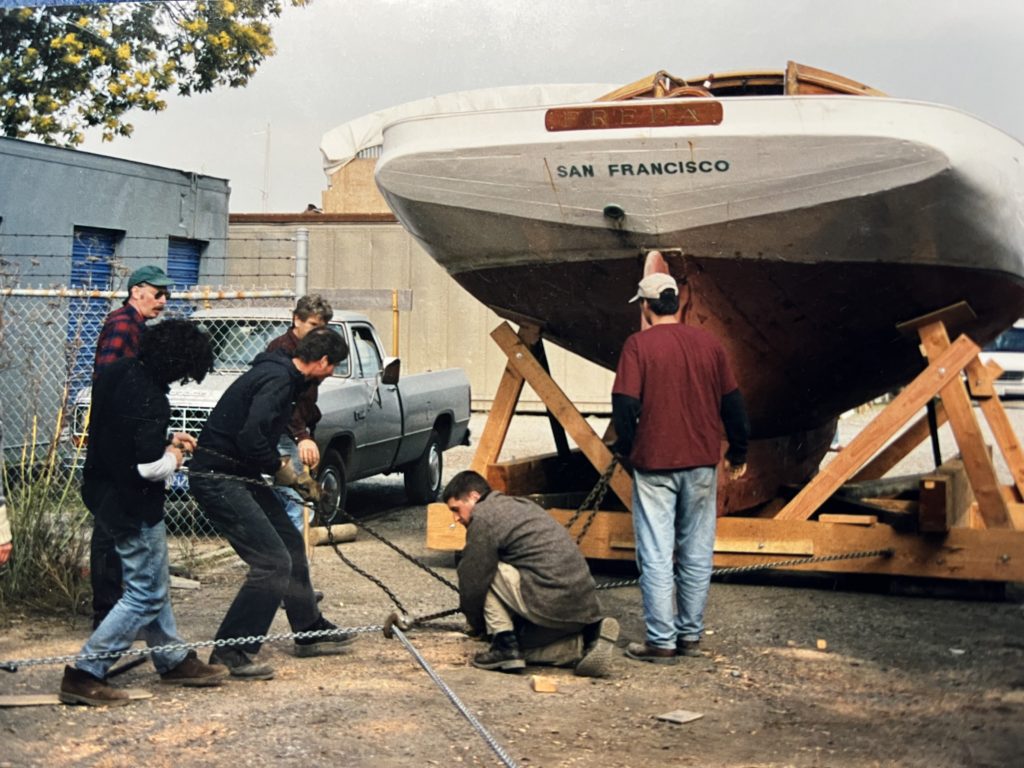 Upon removing Freda's deck we discovered that the deck beams were severely rotted.  They had also sagged over the years, likely because of the large cabin's great weight.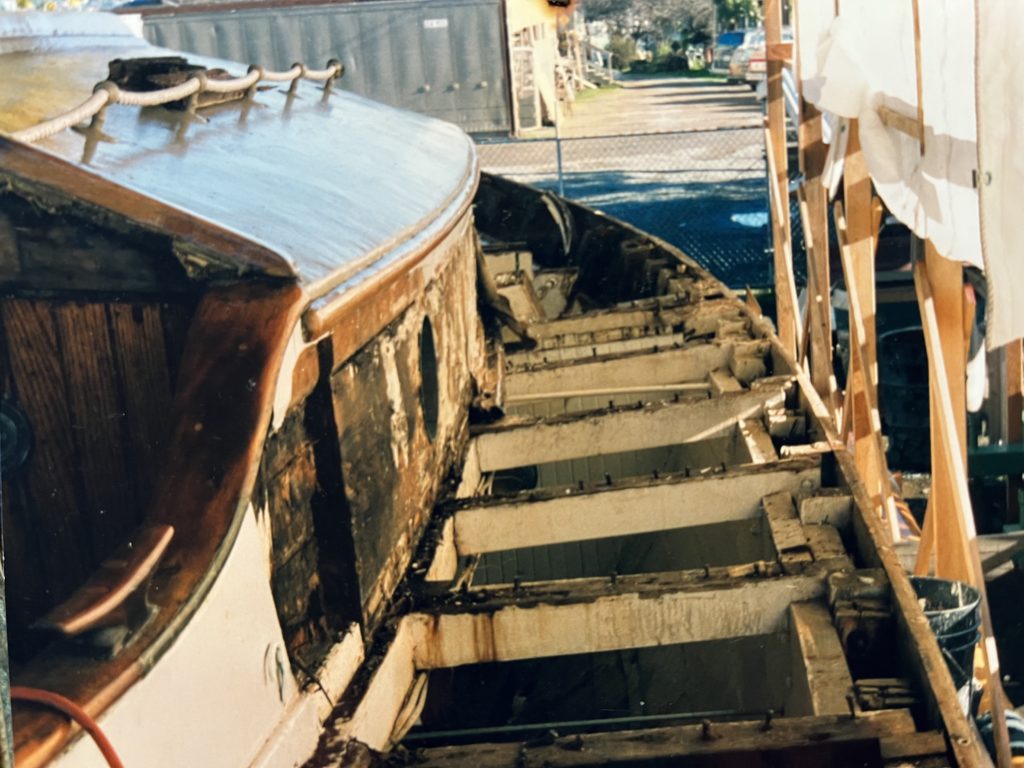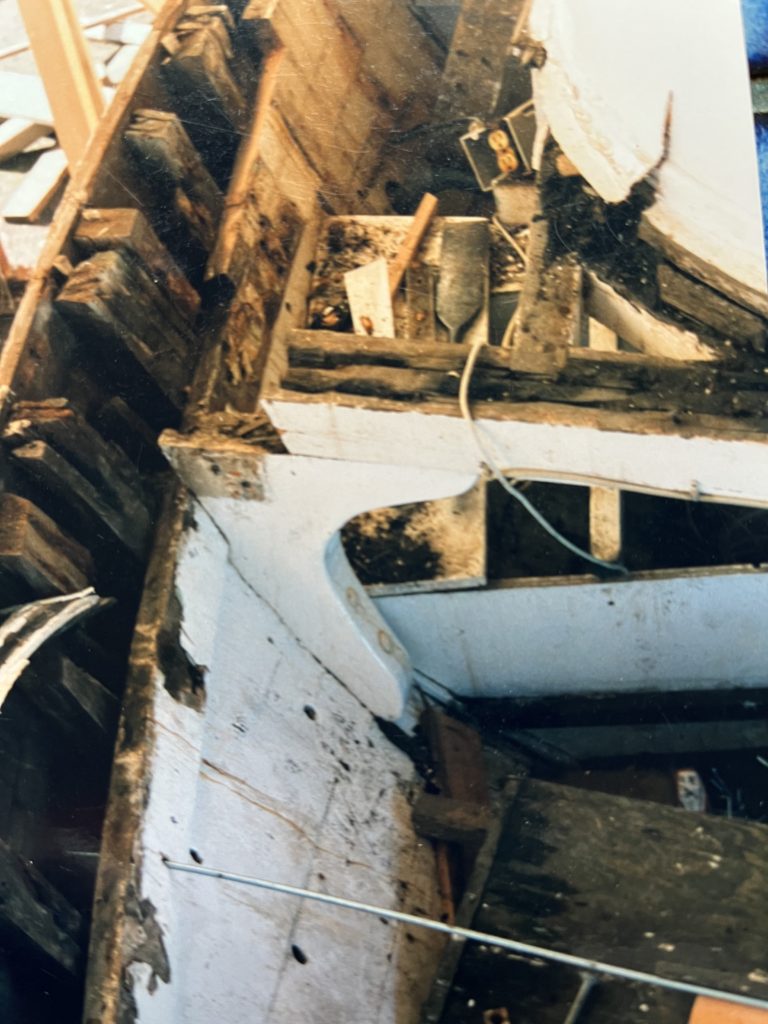 Not only were the deck beams very decayed, but the top of the frames were largely split and rotted.  Freda's lovely transom was found to be thoroughly decayed. It was evident that we would have to replace the transom and all of its framing in this first phase of the restoration.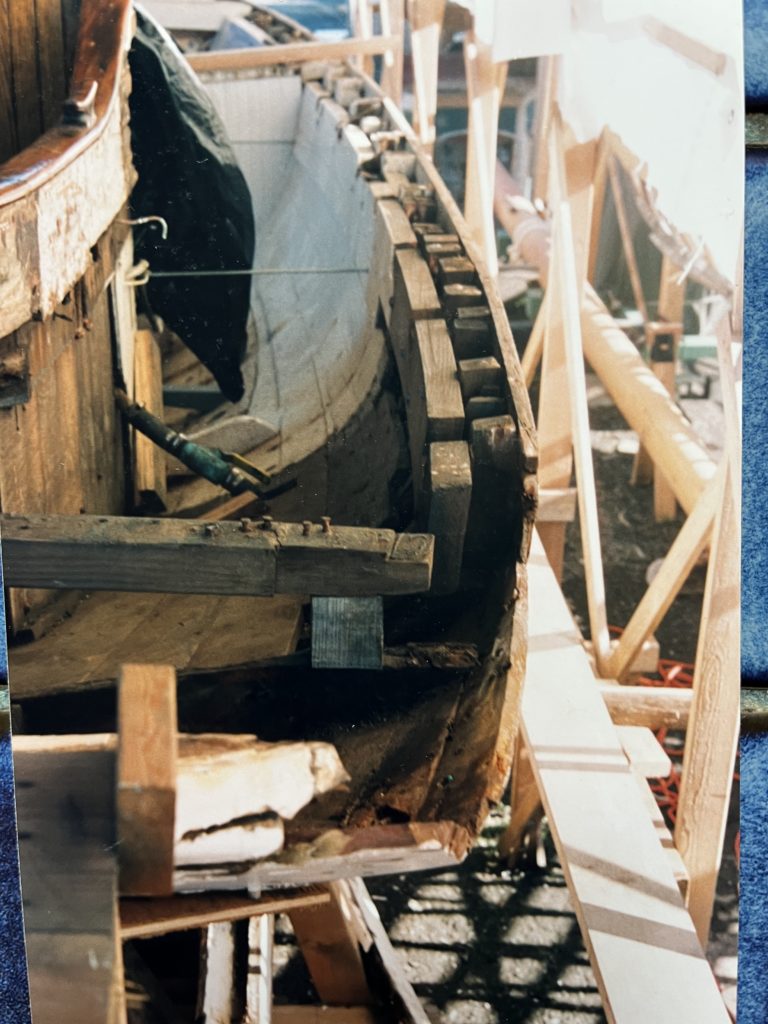 <<<<<<<<<<<<<<<<<<<<<<<<<<<<<<<<<<<<>>>>>>>>>>>>>>>>>>>>>>>>>>>>>>>>>>>>>
THE FOLLOWING PHOTO (BY SCOTT WALL) OF THE ARQUES SCHOOL'S HISTORIC RESTORATION SHOWS THE UNDERSIDE OF FREDA'S NEW CABIN, THE HULL'S GROWN BLACK LOCUST FRAMES, THE PEPPERWOOD FLOOR TIMBERS, AND THE SEASONED FIR PLANKING ALL OF WHICH REPLACED FREDA'S OLD ROTTED CABIN AND HULL IN 2012 AND 2013.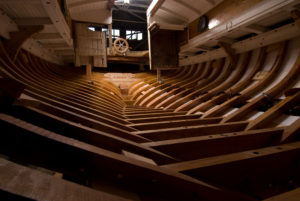 <<<<<<<<<<<<<<<<<<<<<<<<<<<<<<<<<<<<<<>>>>>>>>>>>>>>>>>>>>>>>>>>>>>>>>>>>>>>>>
   THE FOLLOWING PHOTOS, TAKEN IN JUNE, 2022,  ARE OF FREDA'S LATEST HAULOUT    AT THE SPAULDING CENTER IN SAUSALITO.