The Origins of the Arques School
February, 2023
OVER THE NEXT FEW MONTHS, RAYMOND CAGE AND BOB DARR WILL PRESENT SIGNIFICANT LEGAL DOCUMENTS FROM THE VOLUMINOUS FILES OF DONLON ARQUES.
BOB DARR:
During the 1980s, the aging Don Arques and his wife Verna were making plans for their estate.  Without familial heirs, they considered how best to distribute their estate to worthy causes and individuals.  Prominent in their thoughts, especially Don's, was to establish a maritime school in Sausalito where they already owned a great deal of property on Richardson Bay.  Verna also wished to support organizations engaged in musical and equestrian education.  By the end of the decade, their views had drifted further apart and the Arques estate was split into separate trusts.  Don's Arques Maritime Preservation Foundation was founded in 1989 but not funded until some years after his death in 1993.
Phyllis Timm was the Arques Maritime Preservation's only remaining Trustee by the end of Don's life in 1993.  I met Phyllis in 1995 when she was also serving as the Executive Director of the Arques Maritime Preservation Foundation.   It is clear from the existing documents that Don's attorney, William Hogan, and Trustee, Phyllis Timm, were instrumental in helping Don to finalize plans for the founding of a small maritime school dedicated to preserving traditional wooden boat building.
The first document that I would like to introduce is an important letter from Don Arques's attorney, William K. Hogan, addressed to Robert Cleek and William Vaughn, two founding Directors of the recently formed Arques Maritime Preservation Foundation. Don wanted them dismissed and replaced by Phyllis Timm and Jozef DeLeeuw.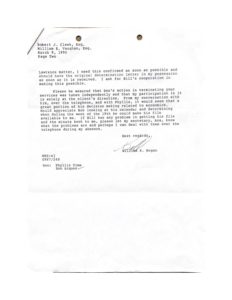 William Vaughn had authored the Foundation's application for State and Federal non-profit organization status.   Vaughn's application included the following description of the future Arques School :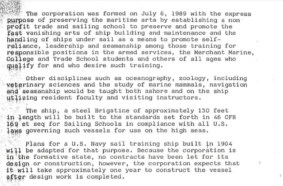 Vaughn's proposed budget was as follows: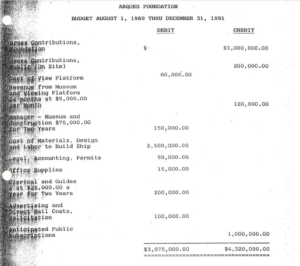 Vaughn's proposal for procuring the funds for the venture was as follows: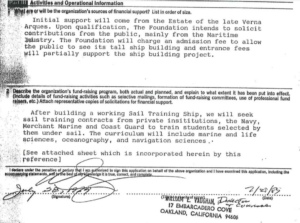 Unfortunately, the Arques Maritime Preservation Foundation had no such funds nor had the possibility of raising such funds.  Don Arques no longer had access to funds from the Verna Arques estate.  Hugh Lawrence, Verna Arques's attorney had prevailed in a court decision to establish a separate foundation to be funded by Verna's estate. Secondly, as Phyllis Timm had years later explained to me, Vaughn's proposal seemed unrealistic to Don Arques.  That is why, in the last paragraph of Hogan's letter to Vaughn and Cleek, the words "Don's action in terminating your services" had been used.
Thus, the application was never implemented.
Meanwhile, Don had been thinking about creating a small school that was in some ways similar to what Dick Wagner had done on Lake Union in Seattle.