THE DONLON ARQUES HISTORICAL RESEARCH PROJECT
Briefly: The Arques Maritime Preservation Foundation preserves hundreds of files and documents concerning the late Donlon Arques and his family's Sausalito waterfront properties, and their various shipyard enterprises.  The Arques's unconventional management of these properties after the Second World War was viewed by some as benign neglect and by others, especially at City Hall, as clearly noncompliant with regulatory codes.  In the early 1960s, Don was still struggling with how to dispose of the wartime materials, equipment, and debris that littered the various Arques properties in Sausalito.  City Hall was breathing down his neck as they sought to force him into compliance with their regulations. Don did sometimes comply and sometimes didn't, but it was impossible for anyone to imagine then that his free-thinking approach to City pressure would lead to a cultural renaissance that would greatly transform Sausalito over the next two decades.  
Cognizant of the legal hazards of renting out non-compliant and dilapidated waterfront buildings and marine berths, Don regularly allowed the free use of his property to a growing number of mostly free-spirited hippies, artists, craftspeople, and a number of boatbuilders.  There was occasionally some trading involved but it was mostly gratis on Don's part.  Sausalito's citizens warily watched the town's population grow by the hundreds in just two or three years.  Quite a number of Sausalito's citizens found this sudden shift threatening.  Others were delighted by the rich new life that the immigrants had breathed into their already precious town.   
This historical project is being spear-headed by some of us who came of age in the nineteen-sixties Bay Area, and others who settled here during the tumultuous and exciting decades of the sixties through the eighties.  The volume of documents about the Arques family is so large that a number of us have decided to work together with the intention of preserving, as accurately as we are able, the core of the Donlon Arques story.
Some Introductions (more to come):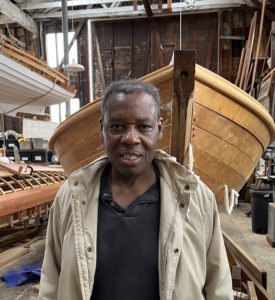 The project's lead researcher,  Raymond Cage, met Don Arques while still a child. Raymond's father, Lindsay Cage, worked for decades at Don's various Sausalito waterfront properties.  Raymond grew up working on the docks and structures on the Arques property.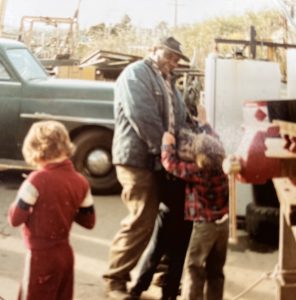 Lindsay Cage was loved by a good many people.  I (Bob Darr) met him in my teens in the mid 1960s while wandering the Arques property.  I met Raymond in 1996 after the Arques School of Traditional Boatbuilding decided to name its first completed School boat the "Lindsay Cage".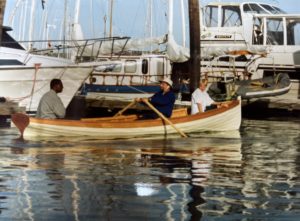 Raymond and Bob out rowing in the "Lindsay Cage" on launching day.