Saving the Dolphin from destruction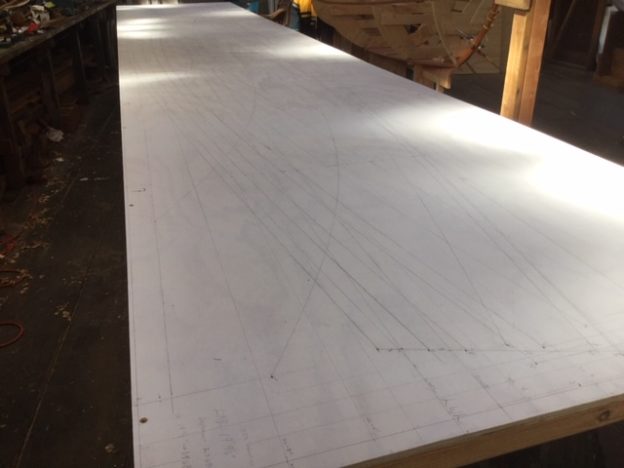 May 21, 2020-THE LOFTING OF DOLPHIN'S HULL SHAPE IS NOW COMPLETED:  From the faired lines of the lofting, we will prepare a full set of lines drawings of the sloop, including a table of offsets. These plans will preserve Dolphin's lines for posterity and will be made available to the public.
May 17, 2020:  We spent most of yesterday morning reviewing the process of transferring Dolphin's hull shape to a grid on the lofting table by using long fir battens to 'fair' the shape of the boat.
INFORMATION ABOUT DOLPHIN FROM COMMODORE (WARWICK) TOMPKINS: In March of 2020, I was speaking on the phone with my old friend, Commodore (Warwick) Tompkins, and I asked him if he had heard of Dolphin. To my amazement Commodore told me that as a teenager (around 1947) he had sailed with Syd Foster on Dolphin.  He apparently crewed on Dolphin for a season and a half. I sent him the photo below and Commodore kindly sent me the following email about his recollections from those days:
Bob,
That photo looks like the boat I remember!  Rather sleeker, with the cuddy further aft than I recall.
Pasquinucci was  chief boatbuilder at Madden and Lewis'  shipyard, when WANDER BIRD was hauled and worked on.  Ralph Flowers was, I believe, general manager there.  Syd Foster was harbor master for Herb Madden.  You may be interested to know that Madden built his harbor using  piles recovered from  broken-up rafts coming south and destined for SF.  I recall he paid  fifty cents a pile to the fishermen who towed them in from the sea!
Good luck in restoring the little vessel.  When I sailed in her, I had no eye for design, being completely swept away by the experience of racing in the Bay.  I  estimate that I sailed about one and a half seasons in her.
Syd always steered from the leeward side, I do not remember him ever wearing slickers!  No spinnakers while I was aboard.
PREVIOUSLY: On January 8, 2020, Roy Cano of Sausalito came to the Arques School to ask that we help him prevent the historical sloop Dolphin from being destoyed.  The 21ft long Dolphin is said to have been built by Menotti Pasquinucci in the 1920s at his boatyard at the foot of Turney Street in Sausalito. She was built for Syd Foster, an avid racer who worked for many years as the Arques marina's harbormaster. Syd raced Dolphin for decades out of Sausalito and Alameda. Roy Cano had worked for Don Arques from the 1970s up to the time of Don's passing. Don had explained to Roy that he too had been involved with Dophin's construction. Apparently, Don built Dolphin's cabin. Ralph Flowers, a well-known Sausalito boatbuilder and sailor who was active into the 1980s, told Roy that he had assembled the sloop's rig. For the last decade or so, Dolphin was stored on the banks of the Petaluma River. Recently, that property was being cleared for new construction.  Roy explained that he had no place to bring Dolphin, nor the means to do so.  After examining Dolphin's condition, I agreed to move it to the Arques School's storage yard for the sake of picking up the lines of the vessel by the School's Design Class and lofting it.  Sadly, Roy Cano passed away in February. His son, Diego, has decided to move ahead with Roy's plan. Dolphin is now safe at the School's storage yard and we are currently reseaching her history.  Our hope is that funds can be raised to preserve Dolphin for posterity.
Bob Darr