Boat Design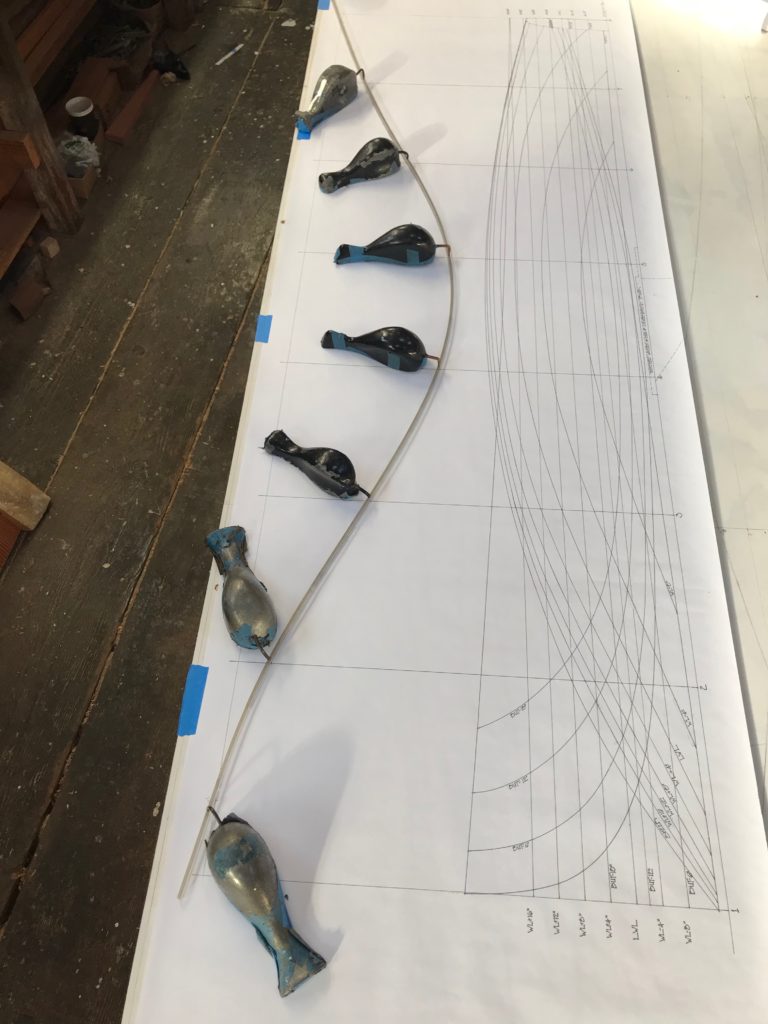 INTERPRETING DOLPHIN'S LINES: 
The above image within the curved batten held by 'ducks' is a two-dimensional representation of DOLPHIN'S displacement (how much water the vessel displaces when it sits on its load waterline). Known as the 'curve of areas' this is a graph of the combined stations' immersed areas. (Please examine DOLPHIN'S stations in the body plan shown under 'Projects'). Each station's immersed area is translated as a distance and measured out from the centerline at each station.  The batten running through them allows us to understand DOLPHIN's underwater volumetric distribution.  From this image, we are also able to harvest DOLPHIN's prismatic coefficient which is .582. This coefficient likely indicates that DOPHIN was capable of semi-planing in a good breeze.  The 'curve of areas' is one of a number of calculations used to create a sound design.  The Arques School's approach is traditional, based on studying the best designs from the late 19th through the mid-20th centuries. Students produce their own designs by learning to draw and by making use of a number of relatively simple calculations to create safe, efficient, and personally pleasing boats.
JOIN THE DESIGN CLASS!  IT'S A LOT OF FUN IF YOU ARE PATIENT AND ENJOY DESIGN.
Like all of our classes, the Design Class is avocational, intended for serious amateurs who love traditional wooden boats and wish to help preserve the history, design, and construction methods of this craft.  
Applicants must first visit the school by appointment to introduce themselves. From there they can apply to attend a free audit of the class.
This is an ongoing class offering in-depth instruction in traditional sailboat and yacht design. Students learn a simple but sophisticated traditional approach for developing seaworthy and efficient boat designs, and to develop these through lines drawings. Each student designs and prepares the lines drawings for a small boat.
Level
This class is for novices and intermediate level students.
Dates
The Design Class will resume on July 1, 2020. We will continue to meet on Wednesday mornings from 9 am. to noon.
Tuition:
$350 (U.S.) per student
Tuition is for twenty sessions. One half payable with registration: The balance to the instructor on the first day of class
Tool needs
Students should have their own drafting equipment – pencils, straightedge, scale, erasers etc. Specialized drafting tools such as fairing battens will be provided
Instructor:
Robert Darr – a boatbuilder, designer and teacher with forty years of experience. He is known for using native California woods in boatbuilding and for his emphasis on self-reliance.